One of the reasons our team loves working in orthodontics is that we get to change lives every day. Our Blue Star Program is one way we're able to do just that.
Each year, Drs. Roberts and Alvarado and our team accept nominations for children in our community who are in need of orthodontic care and unable to afford treatment. Sam is one of our Blue Star Program participants.
Meet Sam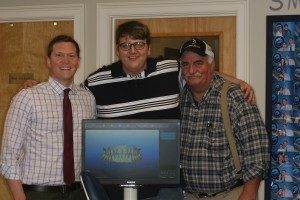 Here's what Sam told us about his smile:
"I don't feel confident about my smile and/ or when I smile. I can't show my teeth and don't feel that they look right. I have friends and like to laugh I would like to show them my beautiful smile if I had one.
If I had a beautiful smile then I would feel more confident about my smile and show my teeth a lot more. Then I could feel better about showing my teeth around my friends.
I'm sure there are other families that are in need of help. In the end I'm sure you will make the right decision.
Me and two of my three brothers have had a lot of medical problems. I have good insurance but it doesn't pay for the help that I need for braces. My dad is the only one that works and money is short.
I would like to have a chance to have a nice smile and my teeth fit better.
Thank you for that chance.
Samuel E."
From the Parents
Here's what Sam's parents shared with the BRO team:
"I don't know the needs of other kids and their families but I do know ours. Sam has no chance of receiving orthodontics services that Dr. Love, Sam's dentist, has recommended to straighten his teeth.
We have four boys. Sam's the youngest. 3 out of 4 have had numerous medical problems throughout their lives and continue to do so. These issues along with daily expenses has the family over a long period of time not being able to always do everything that needs to be done. Sam's insurance is good but doesn't cover braces and we can't afford them.
Sam is a special young man. His teachers tell us he is the most social, friendly and hard working boy they know. Because of Sam having obsessive compulsive disorder, anxiety and learning disabilities, Sam has suffered confidence issues. We are afraid the more evident the problems with his teeth become the more his self confidence could be damaged. He could have more problems with depression and that could cause his overall health along with his dental needs to decline. This would cause even more expenses that could be avoided.
My wife and I would like to thank you from the bottom of our hearts for this opportunity to help our very special son.
Thank you,
Robert and Kathy E."
Congratulations on starting Invisalign® treatment, Sam! We are so thrilled to have you as a patient and so excited to watch your progress with you.
Be sure to watch our Facebook page and blog for more updates on Sam's progress from our team here at Blue Ridge Orthodontics!
https://www.blueridgeorthodontics.com/wp-content/uploads/2015/07/BlueStar_495x400.jpg
400
495
Catherine Farist
https://www.blueridgeorthodontics.com/wp-content/uploads/2021/10/Blue-Ridge-Orthodontics-Logo-Arden-Asheville-NCi.png
Catherine Farist
2015-07-09 02:40:42
2017-09-17 20:07:52
Blue Ridge Orthodontics Blue Star Program