20 Things You Should Know Before Getting Invisalign
Thinking of getting Invisalign? Then we think you're on track to getting the smile of your dreams!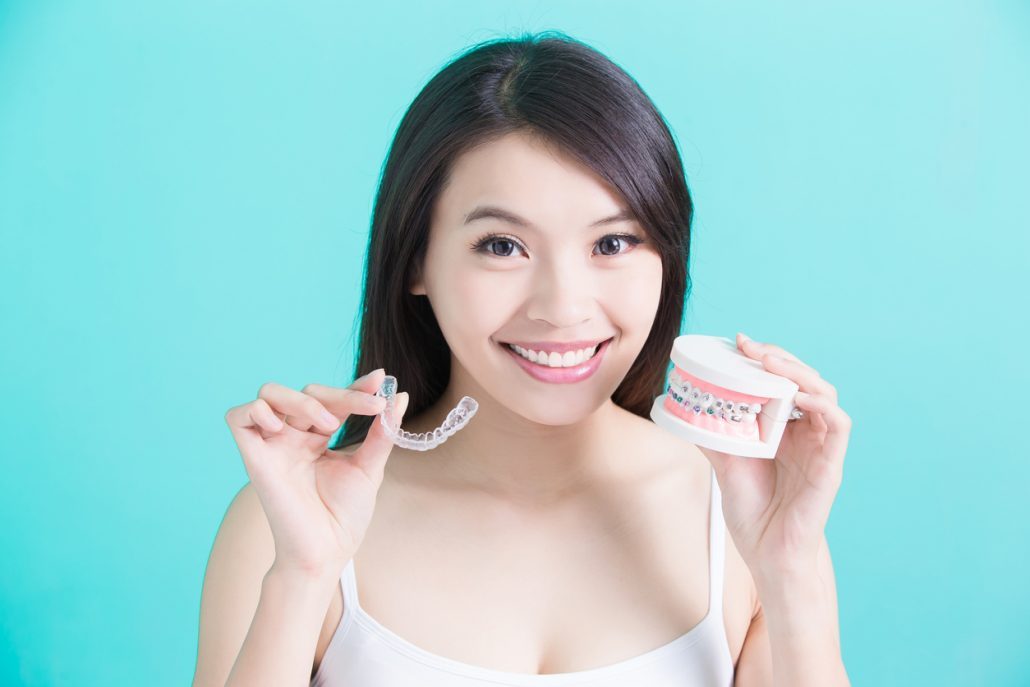 As the team behind an board certified orthodontist office, you may think we're a bit biased―and perhaps we are. After all, we've devoted our lives to smiles! But we also believe in keepin' things real, so here you have 20 things you should know in order to make an informed decision about Invisalign.
1) Don't rule yourself out!
Often, people spend a great deal of time thinking about Invisalign before they've even talked to an orthodontist. This is completely normal and understandable; after all, they're your teeth! That said, you may be overthinking certain aspects of Invisalign that you do not need to. For example, you may have heard that for particularly severe malocclusions, you will need traditional metal braces, and consequently may be wondering whether you are even eligible for Invisalign.
If this is the case, please come in and talk with us before jumping to any conclusions! We are in the top 1% of Invisalign providers in America and are frequently able to say "yes!" in situations where other orthodontists have suggested metal braces.
2) Invisalign is Fast and Efficient
Many people think the main difference between Invisalign and traditional braces is simply the aesthetic difference. While many patients love the discretion associated with the nearly-invisible option for straightening your teeth, don't forget it is also faster! Most patients see visible results within 2-3 months.
3) You Will Likely Experience Some Discomfort
Invisalign may look smooth and sleek compared with metal braces, but you might still experience some degree of discomfort. Some people report discomfort and others do not. It varies by person, smile, and pain tolerance.
4) Your Teeth May Feel Loose
Many Invisalign patients report that their teeth feel loose when their aligners are out. This is perfectly normal, as your teeth must be loosened to move to their new positions.
5) Invisalign is Custom Made
We work together with Invisalign to custom design each aligner for your mouth. After we scan your mouth with our state-of-the-art iTero scanner, the Invisalign lab creates a series of aligners that you will change out about every two weeks.
6) You Might Miss Eating and Drinking Slowly
Your aligners must stay in 22 hours per day, so you will have to fit all of your eating and drinking (non water beverages) into two hours. Some people say they miss sipping their morning coffee or evening wine slowly, but others are also excited to see how eliminating constant snacking can trim up their waistline.
7) You May Have a Slight Lisp
Some patients report having a slight lisp or different-sounding voice during the first week or two. However, it is typically something that A) other people don't actually notice and B) will go away as you get used to the aligners.
8) You May Have "Buttons"
Some patients will have buttons as part of their Invisalign treatment. They are small, tooth-colored brackets that your orthodontist will adhere to your teeth.
9) You May Have Rubber Bands
Every Invisalign case is unique, and some may require orthodontic rubber brands, used in a similar manner as with metal braces.
10) You Will Become the King/Queen of Brushing
Every time you take your aligners out to eat or drink, you should brush and floss before putting them back in. The last thing you want is for food residue to become trapped between the aligner and your teeth, as it is uncomfortable and bad for your teeth. Also, it can yellow your aligners!
11) You Need To Clean the Aligners Properly
Don't use toothpaste! Though it may be counterintuitive, brushing your aligners may result in them becoming murky and yellow. Toothpaste contains abrasive ingredients that can cause build-up, so stick to a mild aligner cleanser instead.
In fact, we've already created a complete guide to cleaning your Invisalign that you should check out.
12) You Can Whiten At the Same Time
"Straight" and "white" go together like peanut butter and jelly! Fortunately, you can whiten during your Invisalign treatment. You already have the trays in all day, so you can make them multitask for you by adding a whitening treatment. We'll be happy to answer any questions you may have.
13) We Charge the Same As Traditional Braces
For most people, cost is a concern. Many assume that Invisalign, which they perceive as a superior or more "modern" treatment, is going to be more expensive. This is not the case! At Blue Ridge Orthodontics, we want you to make your decision on what best suits your needs, comfort level, and happiness. This is why we always charge the same for Invisalign as traditional metal braces.
Click here if you'd like to learn more about the financing options we offer for Invisalign.
14) You'll Want More than One Toothbrush
We know, we know… we've talked a lot about brushing your teeth. However, it's a huge part of your Invisalign treatment, so we recommend having spare toothbrushes everywhere: one in your car, one in your desk at work, one in your purse or bag, etc. It will be worth it!
15) You May Not Like Removing Your Aligners in Public
Your aligners fit snugly, so you may have a hard time popping them in and out―especially in the beginning. Also, you may fit that they come out with a bit of a saliva. All in all, most Invisalign patients find that they prefer taking their aligners out in a discreet place such as a restroom.
16) You are Never Too Old For Invisalign!
Sometimes patients wonder if it's "worth it" or whether orthodontic treatment is just for teenagers. This could not be further from the truth! Invisalign is great for everyone from teenagers to those teens' grandparents.
17) Take Ratings Into Account When Choosing
When it comes to your smile, you want the very best. Fortunately, Invisalign has made it easy to gauge every orthodontists level of expertise. Invisalign offers these designations: Preferred, Premier, Elite, and Top 1%.
Invisalign Preferred Provider: Minimum of 10 cases per year
Invisalign Premier Provider: Minimum of 50 cases total AND performs 25 cases every six months
Invisalign Elite Provider: Minimum of 300 cases total AND performs 50 cases every six months
Invisalign Top 1% Provider: Minimum of 800 cases total AND performs at least 200 cases per year
We are proud to be in the top 1%! Not only are we passionate about Invisalign, but we have had a lot of practice, too.
18) You Will Still Need to Wear a Retainer
Just because you're done with Invisalign doesn't mean you're done with your treatment. Invisalign patients still need to wear a retainer post-treatment to make sure they keep their beautiful results for the long run.
19) We've Got Your Back!
Don't be intimidated by the frequent toothbrushing, potential lisp, and the fact that you'll need to drink your coffee more quickly. While it's true that you will get out of your treatment what you put into it, you have an all-star team at your fingertips guiding you every step of the way. It will be worth it in the end, and our satisfied patients can attest to that.
20) Our Consultation is Free
Want to know more? There's only so much you can learn from a blog post, so why not come in and chat with a 1% Invisalign provider? We are a friendly team and never put any pressure on anyone. (We save the "pressure" for moving teeth into perfect radiant smiles!)
For a free consultation, please fill out this form to schedule an appointment or fill out this one if you'd simply like to know more. Also, we have a similar post about braces if you discover that you'll need them instead.
https://www.blueridgeorthodontics.com/wp-content/uploads/2018/12/invisible-aligners-vs-braces.jpg
836
1254
Audra
https://www.blueridgeorthodontics.com/wp-content/uploads/2021/10/Blue-Ridge-Orthodontics-Logo-Arden-Asheville-NCi.png
Audra
2018-12-27 15:21:57
2019-10-03 18:10:12
20 Things You Should Know Before Getting Invisalign