Impressions Vs Other At Home Orthodontic Treatments
Have you heard about our Impressions invisible aligners? They are a new and discreet way to straighten your teeth at home. Similar to Invisalign, Our new invisible aligners are made from medical grade plastic material that is molded after a 3D digitized scan is taken of your teeth.
After your initial consultation and 3D scan here at our orthodontic clinic in Asheville, you will receive your impressions invisible liners at your door in about 6 weeks. within this Impressions box, you will find a full set of the liners and everything else you'll need to stay on track with your personalized treatment plan.
Most of our Impressions patients have completed their treatment within 6 months!
With Impressions, our goal was to give adults in Western North Carolina more options if they need orthodontic treatment. You shouldn't have to put your life on hold because you want to straighten your teeth. Impressions delivers all the results of traditional orthodontic treatment for half the cost and in half the time!
Impressions Vs Traditional Metal Braces
If an adult has traditional metal braces, they might feel a little self-conscious when going on a first date or into an important interview. This is why orthodontic advancements such as Invisalign were so revolutionary. Now, qualifying adults have the option to straighten their teeth in a much more discreet way.
Our orthodontists want you to know that traditional metal braces are still the recommended course of treatment for more complex orthodontic issues. that being said, our Impressions aligners can be used to treat the majority of orthodontic issues we see in adults.
Comparing Impressions invisible aligners to traditional braces, there are several distinct advantages we want you to know about:
Our liners are much more convenient than traditional braces simply because they are removable.
This makes it much easier to eat, drink and brush your teeth.
Friends, family members and co-workers won't even be able to tell that you're wearing our liners and you're talking to them.
Impressions aligners are much easier to clean than traditional metal braces.
With Impressions, there are only two required in office visits that patients need to make over the entire course of their treatment.
Impressions invisible aligners cost half as much as traditional metal braces.
Impressions Vs Other At-Home Invisible Aligners
If you qualify, then making the choice between Impressions and traditional braces is simple. That being said, there are now several different at-home invisible aligners providers out there. So why should you choose Impressions if you live in North Carolina?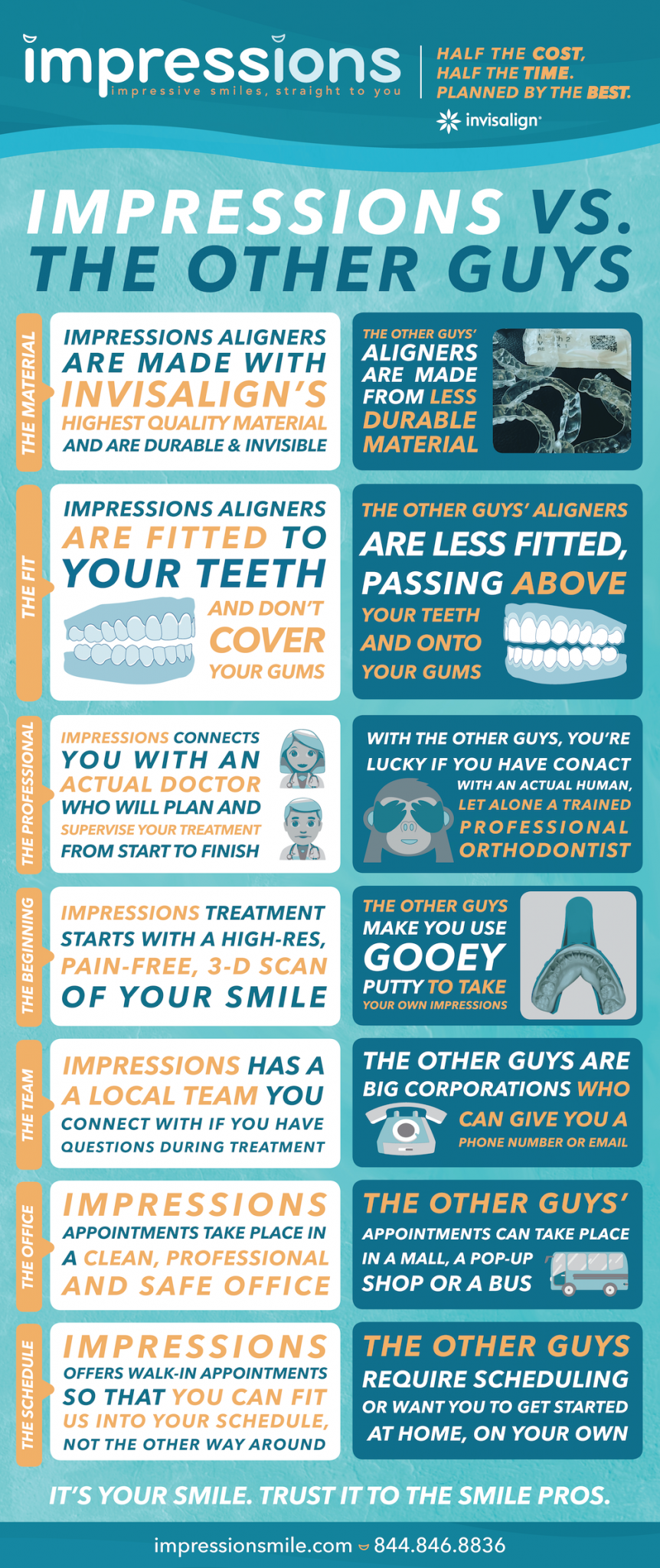 Infographic originally posted on the Impressions website.
Visiting ImpressionsHub and Starting with a 3D Scan
These other Invisalign aligner companies provide at-home kits that you can use to take an impression of your teeth. Ironically, we don't do this with Impressions and there's a good reason why. We discovered that these at-home impressions kits often fail to make an accurate impression of the teeth. There are just too many ways that things could go awry while trying to get that perfect impression.
Here are four common problems that people have when using these at home Impressions kits:
You could receive impressions trays that are not the right size for your mouth, which means they will have to send them back and wait even longer to start your treatment.
With these Impressions kids, there is a specific process one must follow when it comes to mixing the mold putty. Since this kit comes with two types of putty, it must be completely mixed together and then molded into the tray. Once you start mixing the putties, they start to harden. So you have about one minute to properly mix the putty, place it in the tray and then into your mouth in order to get a proper impression. When done at home, there are only so many ways that this can go wrong.
If you managed to get the putty mix into the aligner tray without issue, it is still more difficult than it should be to get the perfect impression of your teeth. You'll need to keep the tray very steady during this entire process which can be difficult. Otherwise, you could end up with a double imprint of your teeth and gums or slight distortions in the shape or length of the teeth.
On top of how difficult it is to just get one perfect impression with these at home kits, you'll need to complete this entire process at least three more times without error.
We have heard stories about how people received their aligners and none of them actually fit due to the poor impressions taken with those at home kits. This can significantly delay the start of your treatment. Since Impressions was developed by a diamond level Invisalign orthodontist, we felt it was best to start each patient with an accurate 3D scan of their teeth.
Because we always start with a 3D scan of your teeth at our Impressions hub, we can guarantee 100% accuracy for every patient. You aren't going to have to worry whether your aligners are going to fit your teeth when you get your impressions box delivered to your door. the entire process is quick and painless, plus it won't leave you with a bad taste in your mouth like the putty in those at home Impressions kits.
Additionally, we felt it would be great is our patients got the opportunity to see what their perfect smile would look like before they even get started. With our 3D iTero technology, you'll be able to see what your smile is going to look like as soon as we're done with the scan. It's really cool!
Our Invisible Aligners Are Produced With Higher Quality Material
Unfortunately, we found that other at home invisible aligner companies have chosen to use cheaper material in the production of their aligners in order to save money and increase their own profits. If you're making such a significant investment in your health, then you should know that you're getting the best product possible.
When it's not, the results can be shocking…
Impressions invisible liners use the same high-quality material that Invisalign uses. This means that our trees are more durable than some of "the other guys." With these other at home invisible aligners, you do run the risk experiencing complications that could significantly extend the length of your treatment.
Impressions Connects You With a Real Orthodontist
Studies have shown that most American adults could benefit from some kind of orthodontic care. Unfortunately, too many don't have the means to afford it. Dr. Roberts created impressions in order to bring affordable orthodontic care to more people in North Carolina.
In addition to the convenience offered by impressions, patients are also going to be connected with a real orthodontist. You will meet with Dr. Roberts, Dr. Schuler or Dr. Twomley during your first appointment and they are going to develop a customized treatment plan for your smile. We don't want you to feel like you're going to be on your own at any point during your treatment. You get all of the convenience of at-home orthodontic care with the peace of mind that you can reach out to one of our orthodontists with questions or concerns at any time.
With these other at-home invisible aligner providers, you are not going to be connected with a real orthodontist. You will more than likely be directed to a customer service number if you have any questions or concerns during your treatment. It can feel isolating…
Yes convenience is important, but who are you going to feel more confident with when it comes to correcting your smile? An orthodontist you can meet in person or a customer support representative?
Impressions Accounts For Your Bite & Overall Health
You're probably looking at invisible aligners, because you want to straighten your teeth. This is what most at-home invisible aligner providers are solely focused on. Unfortunately, that can actually lead to some serious problems.
With Impressions, we knew that we could not only be focused on straightening teeth. We needed to know that we could achieve the best results without impacting the patient's bite or long-term oral health. Again, this is something that we can guarantee, because we have a real orthodontist heavily involved in the treatment process from start to finish.
Many of those other at-home orthodontic providers haven't appeared to take this into consideration. This critical oversight has led to significant issues for people that have tried them.
Conclusion
It really is amazing that adults who are seeking orthodontic care in North Carolina have so many options. If you are now considering at-home invisible aligners like Impressions, we have a few more things that we want you to know:
We accept most insurance providers for Impressions treatment.
Impressions offers an extended payment plan as well.
The ImpressionsHubs are located in real orthodontic clinics, not in a tent, a bus, a mall or a pop-up shop.
Walk in consultations are available to you with Impressions, most other companies don't have an office to walk into, and when they do, it's by appt.
You can upgrade to comprehensive Invisalign if desired thanks to the fact that Impressions is run by a diamond level Invisalign orthodontist.
https://www.blueridgeorthodontics.com/wp-content/uploads/2019/04/ways-to-straighten-teeth-without-braces.png
366
600
Audra
https://www.blueridgeorthodontics.com/wp-content/uploads/2021/10/Blue-Ridge-Orthodontics-Logo-Arden-Asheville-NCi.png
Audra
2019-04-28 16:45:38
2019-04-28 16:47:41
Impressions Vs Other At Home Orthodontic Treatments