No freetime? Learn How to Get a Straight Smile from Home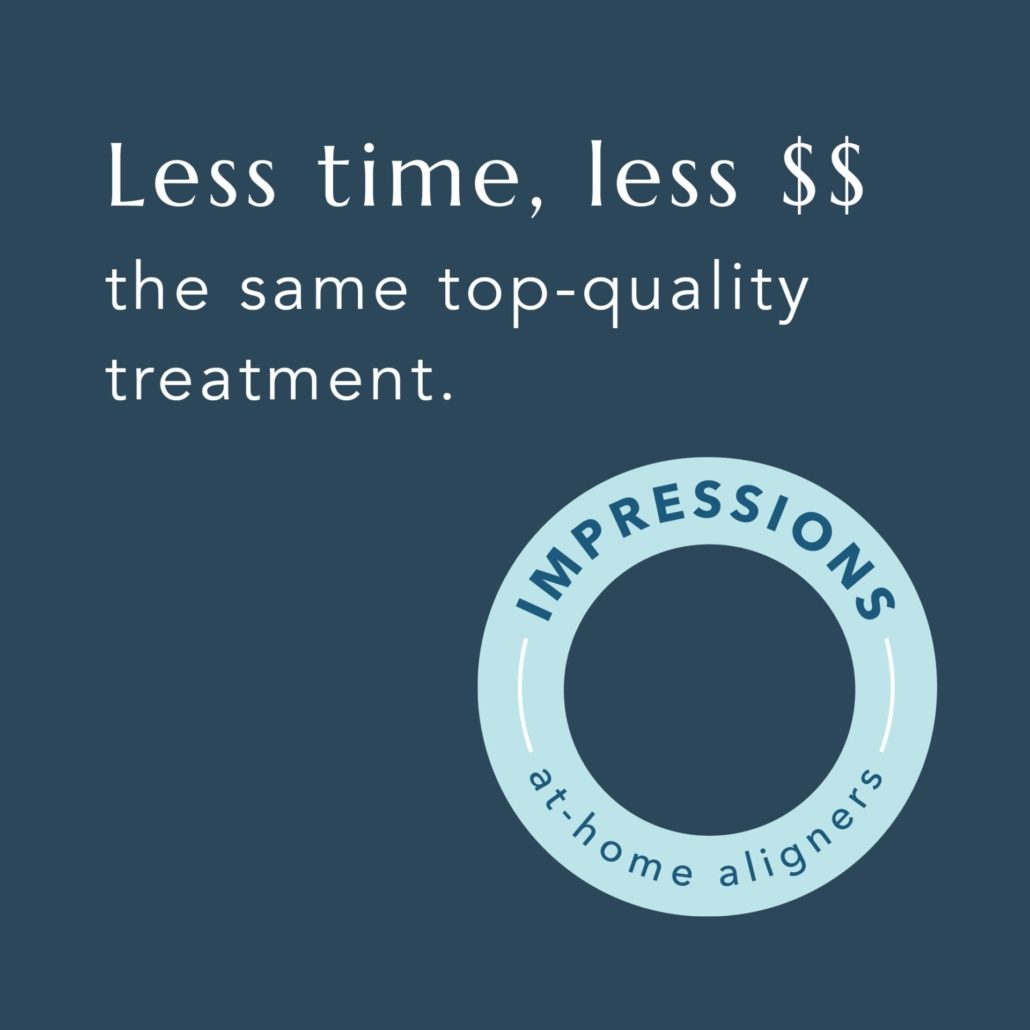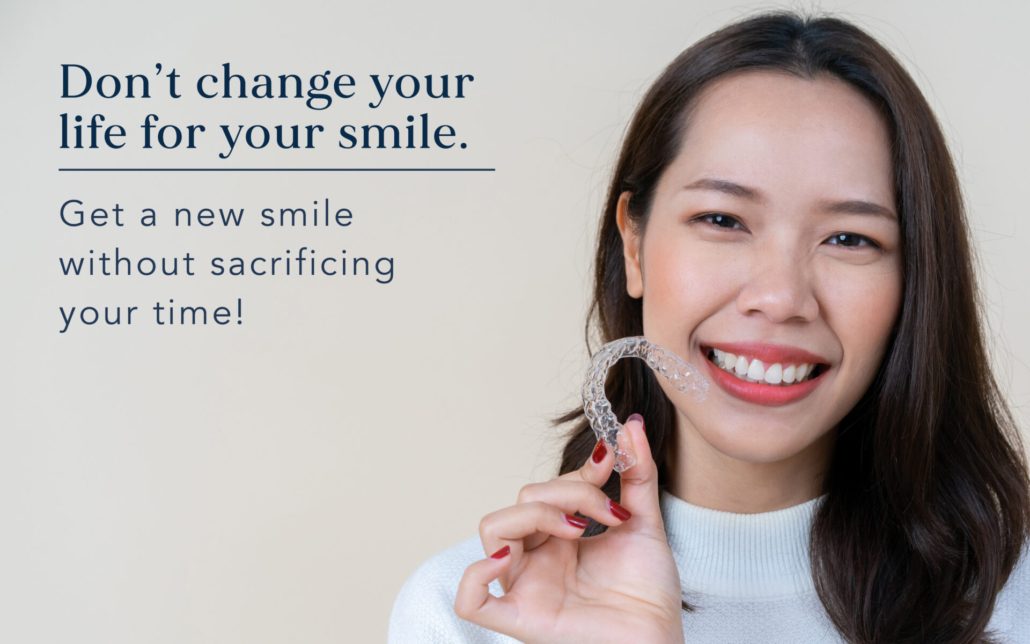 Want a new smile but don't have time for regular appointments? Meet our Impressions treatment options! Impressions and Impressions+ are at-home clear aligner treatment options that require significantly fewer appointments than other orthodontic treatments, like braces or Invisalign.
Our at-home treatment options allow you to go on with life without any major changes, all while completing your goal for a straighter smile. Say YES to a brighter, straighter smile for less of your $$ and time. 
Traditional clear aligner treatments, like Invisalign, require an appointment every 6 to 8 weeks for the duration of treatment. With treatment lasting up to 2 years, that could mean carving out time for around 20 trips to the office! That means sacrificing A LOT of your time.
Check out our two levels of at-home treatment and decide which will be best for you!
Along with hassle-free treatment, enjoy:
Your aligners & tools shipped directly to your door
FREE whitening during treatment
The option to have virtual appointments
Access to local doctors at Blue Ridge Orthodontics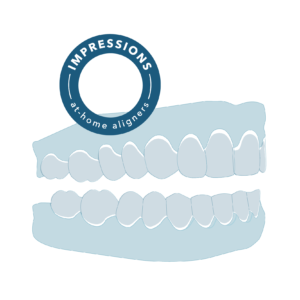 Impressions transforms your smile at home.
We designed Impressions for the busy moms, work-a-holics, world travelers, and students with jam-packed schedules. Impressions can transform your smile with just three appointments, which is the least amount of appointments out of all of our treatment options.
Initial Consultation – This appointment is completely free and it can even be done virtually. We're here to help answer any of your questions and give you an idea of what the rest of your treatment could be like.
Treatment Begins – You will come to one of our locations in Asheville, Brevard, or Hendersonville for a full exam, including a 3D iTero scan and X-rays. Our doctors will evaluate your current smile and your smile goals before creating your treatment plan. We can even show you how your smile will look after treatment!
Final Evaluation – You've finished all of your trays and are ready to show off your smile. We will make sure your new smile is to your liking and send you off to show that smile off to the world!
If you have limited time and only have minor smile issues to correct, this is a great option for you!
Impressions+, the perfect balance for your life.
Impressions+ is the more advanced version of our original treatment. Impressions+ includes only six appointments over the course of treatment! More appointments allow the BRO doctors to keep a closer eye on your smile progress and make sure you're on track. Impressions+ also includes attachments, small tooth-colored bumps that help the aligner grip onto your teeth and move them. Attachments make at-home treatment possible for more severe overbites, underbites, overlap, or spacing issues, that before could only be treated with Invisalign or braces.
         Appointment 1 – Free Consultation
         Appointments 2-5 – Progress Evaluations
         Appointment 6 – Your final smile reveal
Need an additional appointment? No problem! You can add additional virtual or in-person appointments for an added cost. Virtual appointments are great for quick questions or progress tracks! No matter where you are our doctors can make sure that your smile is on track.
If you don't have a ton of extra time, but still want to see your doctor every once in a while, this treatment option was designed just for you!
How do you transform smiles from home?
It's simple, we ship a box with your aligners and everything you need right to your door!
Eight to 10 weeks after your scans you will receive the Impressions welcome box. This personalized box will include your aligners, FREE whitening gel, and everything you will need for your smile transformation. Want to see what's inside the box? Click here.
You don't have to worry about your treatment being subpar, just because it costs less! Our aligners are made out of the same materials as Invisalign! Plus, our Impressions team of doctors at Blue Ridge Orthodontics are some of the top Invisalign providers in Western North Carolina. Our doctors are prepared with the solutions for all of your smile concerns. They understand how to safely shift your teeth, correct alignment for your overall bite health, and the clear aligner process from start to finish.
Schedule a FREE consultation to find out how you can get top-quality treatment for less time AND money. Fill out the form below or call us at 828-585-6045.
Your journey to your #ImpressionSmile starts when you open that box! Your life will never be the same – enjoy it! 

Impressions Consultation (1)
https://www.blueridgeorthodontics.com/wp-content/uploads/2021/10/IMP_Blog_FeatureIMG_10.01-1.jpg
1920
1920
Audra
https://www.blueridgeorthodontics.com/wp-content/uploads/2021/10/Blue-Ridge-Orthodontics-Logo-Arden-Asheville-NCi.png
Audra
2021-10-07 14:15:32
2021-11-10 14:49:15
No freetime? Learn How to Get a Straight Smile from Home