Dr. Roberts, founder of Blue Ridge Orthodontics, has created his own at-home teeth-straightening kit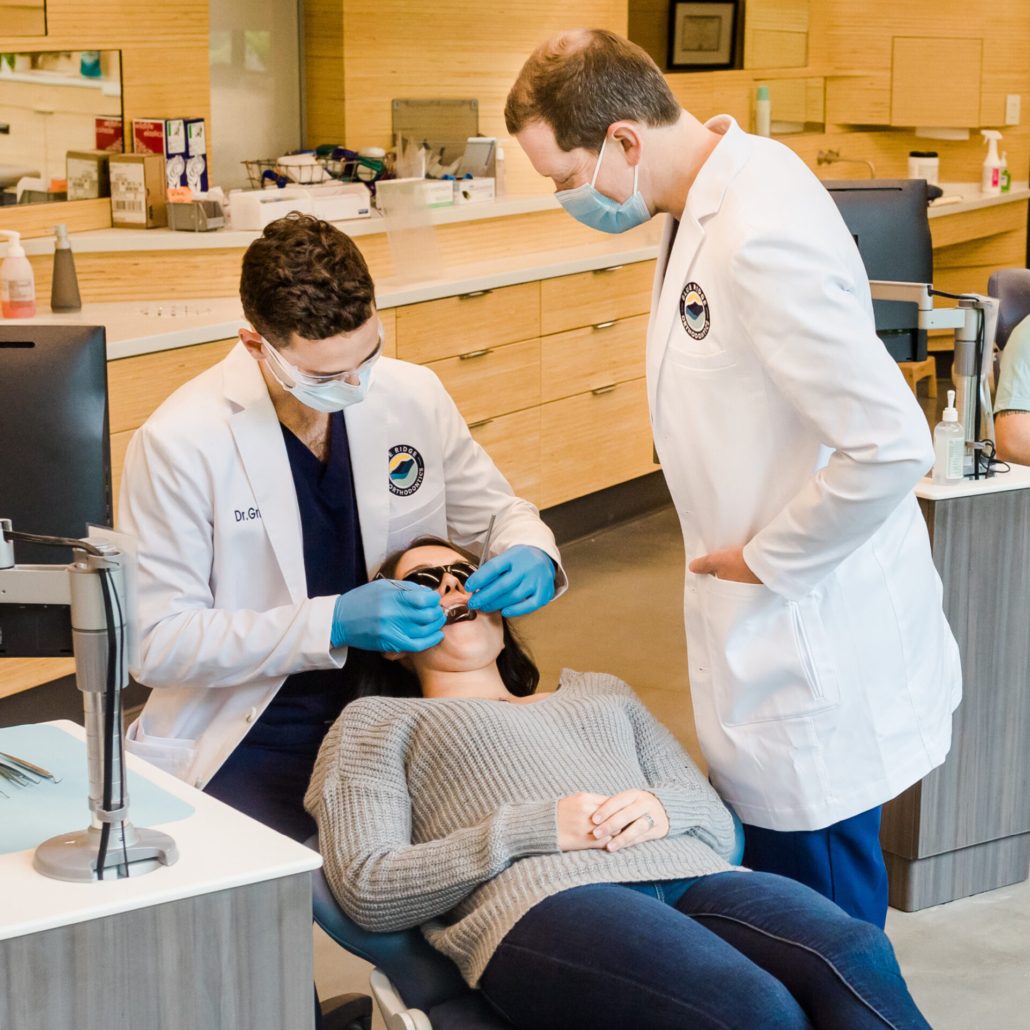 Dr. T. Luke Roberts, D.M.D., M.S.D., founder and leader of the Blue Ridge Orthodontics practice located in Asheville, Brevard, and Hendersonville, has been on a journey of smiles for quite a number of years.
"Having grown up in a medical family who spent our summers working on medical missions, I knew that I wanted to work in a field that has a positive impact on the lives of others. Because of my exposure to patients with cleft lip and palate during those medical missions, I was drawn to the phenomenal change that improving the smile can have on people," says Dr. Roberts. "I once participated in the cleft lip repair of a 68-year-old woman in the Dominican Republic — and the happiness and gratitude that she showed when we were finished has stuck with me since that day. I chose orthodontics because I knew I would be able to create that positive change in self-image for people every day."
Seeing how his patients' smiles change for the better is a daily joy for Dr. Roberts.
As the owner of Blue Ridge Orthodontics, devoted husband, and active father to his children, Quinn, Emma, and Charlie, Dr. Roberts understands the struggle of not being able to find extra time in your day. He knew there were adults that desired a straighter smile but had not been able to find the time to invest in the frequent appointments that traditional treatment options like braces and Invisalign required. This is what lead Dr. Roberts to think about creating an at-home treatment option.

When researching the current market for at-home aligner companies, Dr. Roberts saw some common shortcomings:
#1  Lack of Access to Professionals
Other at-home aligner companies were facilitated by a one-time trip to a mobile practitioner, or even a singular virtual visit. The doctors planning treatment for a lot of the other at-home aligner companies are actually just dentists who have taken a three-day course on clear aligners. Orthodontists complete dental school and then complete additional years of school to learn how to safely and accurately straighten your teeth to give you a smile you're proud of without causing future issues. 
On top of the other companies' treatment being planned by less experienced doctors, meaning there is no course correction if something does not go as planned. This could lead to months of improper alignment that significantly disrupts their path to a perfect smile, not to mention the money lost in the process, and even potential permanent damage to teeth and bite. Teeth can do things we do not expect. That's why it's important to do semi-regular check-ins and to have the option to call your orthodontist to ensure that everything is moving in line.
#2  DIY Mold Kits
These at-home programs begin with a molding kit sent to you to make your own DIY impression for your aligners. When you only have one shot and it's your first attempt at making a mold of your teeth, it is quite common for the DIY impression to be inaccurate. It's risky business basing all of the aligners off a less than perfect craft experiment.

With Impressions, we can deliver accuracy each time, because we always start treatment with a 3D iTero of your teeth! It's quick, painless and carried out by a trained professional. The scan also doesn't leave a bad taste in your mouth like the putty from the at-home impressions kits do. After your 3-D scan, you'll also get to see what your teeth will look like after treatment before you ever get started or pay for anything. Other at-home aligner companies don't offer this.
#3  High Chance of Unsatisfying Results
Surely one of the most intriguing qualities of at-home kits is the low price tag. However, without supervision and professional advice it is not common for patients to get to the last aligner and still have hope for more. Then, these patients will have to go to an orthodontist and course-correct using costly treatment – something they were trying to avoid.

This is not an issue with Impressions. Impressions is 50% cheaper than traditional Invisalign without the sacrifice of quality that comes with these other at-home aligner programs.
The Answer to At-Home Clear Aligner Care: Impressions
by Blue Ridge Orthodontics
Our at-home treatment promises to hold our high standards on treatment and quality of care.
– Fewer appointments but unlimited access to our diamond-level providers


Impressions treatment is planned by our Diamond-level Invisalign providers at Blue Ridge Orthodontics. This assures our patients that they will have the best and most effective clear aligner treatment. Impressions only requires three trips to the office, but we welcome any call, virtual appointment, or additional office visit to check that everything is moving as it should! You should not get to the end of treatment and think, "I was expecting something better than this." If a worry arises at any time during treatment, Dr. Roberts and our top-tier treatment team are just a call away.
Click here to learn more about the Impressions team of doctors.
– Lower cost, without sacrificing quality
Impressions is 50% cheaper than Invisalign but made with the same high-quality material. It means our trays are more durable and will not buckle under the pressure of everyday wear like some of "the other guys."

–  Smile guarantee
We guarantee that you will be satisfied with your smile at the end of your treatment plan. If not, we will continue to work until you are.

–  Convenience
Did we mention that your treatment is delivered straight to your doorstep 6-10 weeks after your 3D scan? With the help of your step-by-step guide, everything included in your Impressions kit, and the Impressions team that you can email and call with any questions, you'll breeze through your treatment at home.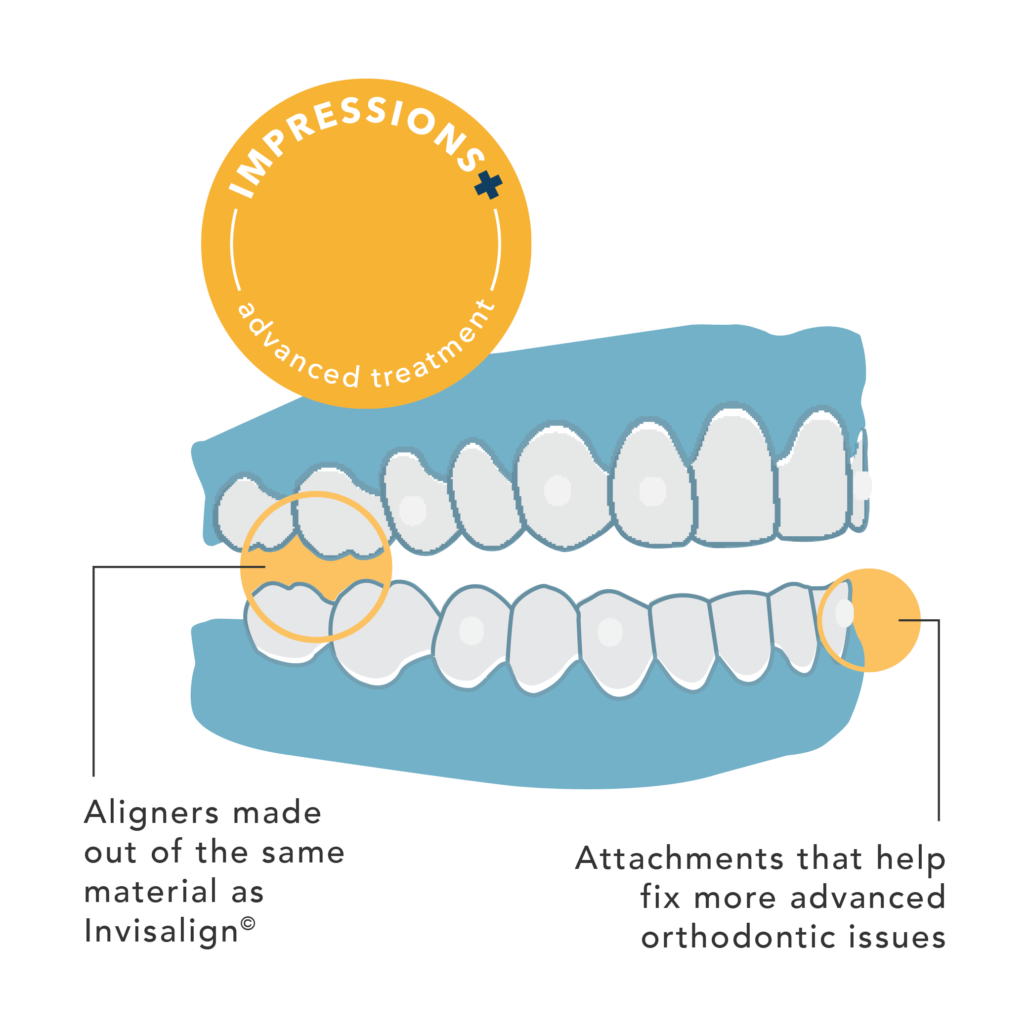 Upgrade to Impressions+ for even more!
With Impressions+ you get more appointments with your Blue Ridge Orthodontics team, plus the ability to treat more advanced smile issues; AND you get all that for 25% less than comprehensive Invisalign.
Click here to learn more about Impressions+.
Ready to choose Impressions for your at-home care? 
It's easy to get started! Click here to fill out the form below to schedule your free initial consultation. Our doctors will answer any of your questions about the Impressions process and will then assess your teeth and smile, and look at specific areas that may be a cause for concern. We offer virtual and in-person consultations, so no matter how busy you are, there's an option that will work for you!
Your journey to your #ImpressionSmile starts when you open that box! Your life will never be the same – enjoy it! 

Impressions Consultation (1)
https://www.blueridgeorthodontics.com/wp-content/uploads/2022/01/IMP_01.22_CreationofIMP_FeatIMG.jpg
1920
1920
Audra
https://www.blueridgeorthodontics.com/wp-content/uploads/2021/10/Blue-Ridge-Orthodontics-Logo-Arden-Asheville-NCi.png
Audra
2022-01-19 10:59:27
2022-01-20 15:02:50
Dr. Roberts, founder of Blue Ridge Orthodontics, has created his own at-home teeth-straightening kit