BRO keeps you Safe! Covid-19 Safety Precautions
Blue Ridge Orthodontic's wants to make sure that our patients and team feel safe coming into our office. Due to COVID-19 things might look a little different when you come in, but the friendly service will always remain the same!
Our priority is always the safety of our patients, staff, and community. We are following the new recommendations regarding COVID-19 made by the American Dental Association (ADA), the U.S. Centers for Disease Control and Prevention (CDC) and the Occupational Safety and Health Administration (OSHA). We are actively monitoring these agencies to ensure our infectious control procedures are current. We are adhering to or exceeding each agencies' recommendations. We aim to go above and beyond those requirements to protect our patients with the precautions below.
As a result, you will experience some changes when it is time for your next appointment. We ask for your cooperation and understanding in the implementation of these changes.
HOW OUR OFFICE HAS IMPROVED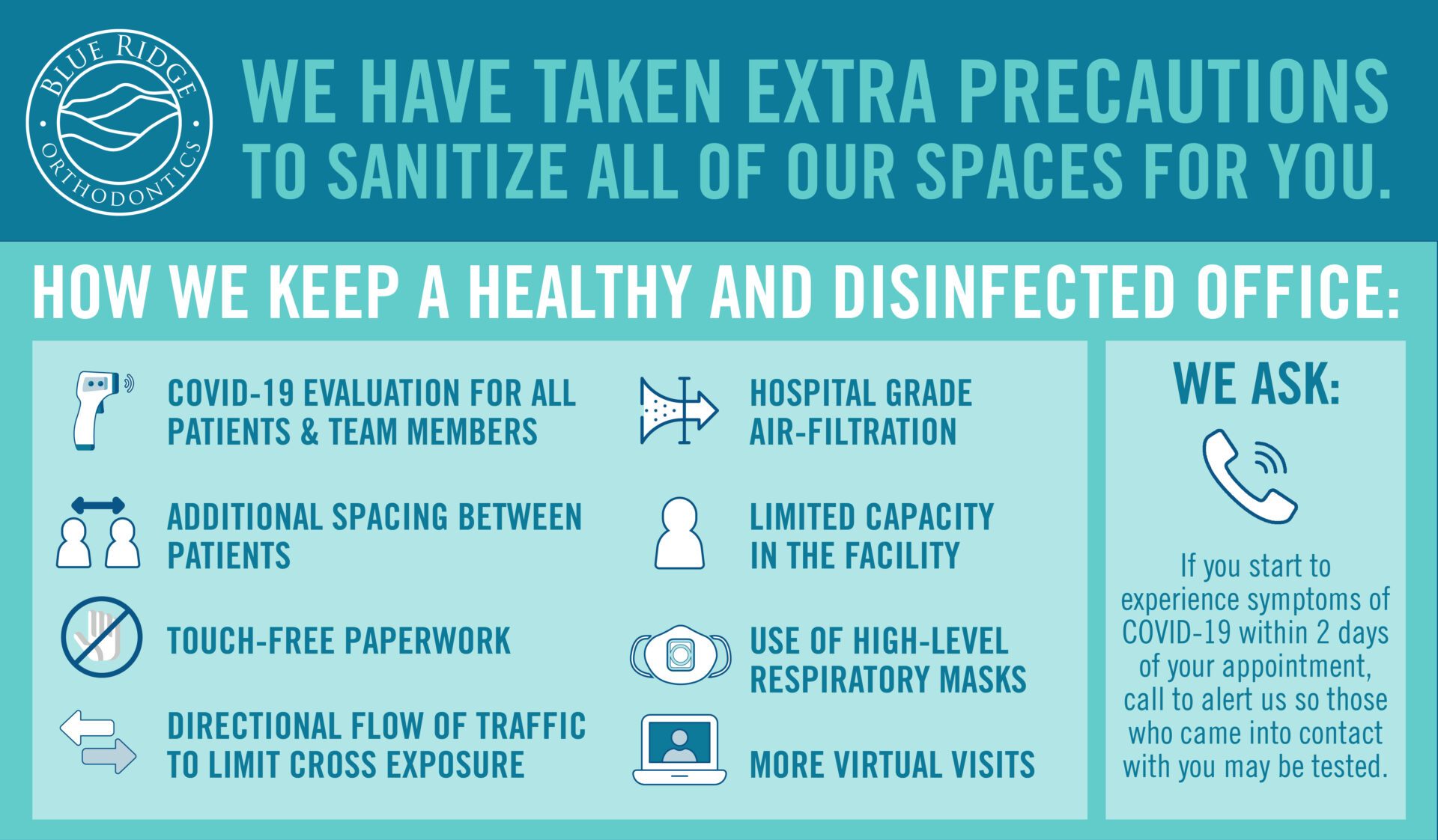 HOW YOUR APPOINTMENT WILL CHANGE
Prior to your Appointment:
Prior to your appointment, our office will ask you the required health screening questions. You'll also be asked to fill out a Wellness Screening and Informed Consent upon your arrival for your appointment.
If you or your child require special accommodations due to medical conditions, please let us know when we are scheduling your appointment.
Brushing stations will remain closed, please come to your appointment with immaculate oral hygiene.
When you arrive to see us:
Please arrive 10 minutes early to your appointment to fill out our Wellness Screening paperwork and have your temperature taken.
You will call to check-in upon your arrival and be asked to wait in your car until we notify you that you're cleared to enter the building. The front door will remain locked and there will be signs on all of our doors that reiterate this new process.
We ask that only the patient come in for their appointment. If a parent would like to escort their child, then only one parent will be allowed and will also be subject to the full check-in protocol, including wearing a mask.
We will be taking the temperature of everyone that enters the building.
We have a hand sanitizer station that we will ask you to use when you enter the office.
During your Appointment:
All of our staff will be wearing full Personal Protective equipment and you should be wearing a mask as well.
We will try our best to maintain social distancing in situations where it is possible, otherwise like during examination we will be taking every precaution to keep you and ourselves safe while continuing to do our job.
After your Appointment:
Be sure to schedule your next appointment on your way out. Your oral health is connected to your overall health, so one of the many ways you can stay healthy during these times is to keep up with regular dental care. We are here for you.
If you start to experience symptoms of COVID-19 within 2 days of your appointment, call to alert the office staff so those who came into contact with you may be tested.
We are open to accommodating our patients that are high-risk or don't absolutely have to come into the office by providing virtual consultations. If you would like to schedule a new patient virtual consultation or appointment, click here. 
We're excited to see you! Schedule an in-office appointment below.
– The Blue Ridge Orthodontics team
https://www.blueridgeorthodontics.com/wp-content/uploads/2020/10/BRO_PPE.jpg
1920
1920
Audra
https://www.blueridgeorthodontics.com/wp-content/uploads/2021/10/Blue-Ridge-Orthodontics-Logo-Arden-Asheville-NCi.png
Audra
2020-10-26 10:59:10
2020-10-26 11:23:37
BRO keeps you Safe! Covid-19 Safety Precautions