Impressions+ : How our advanced treatment option from Invisalign could be the winner for you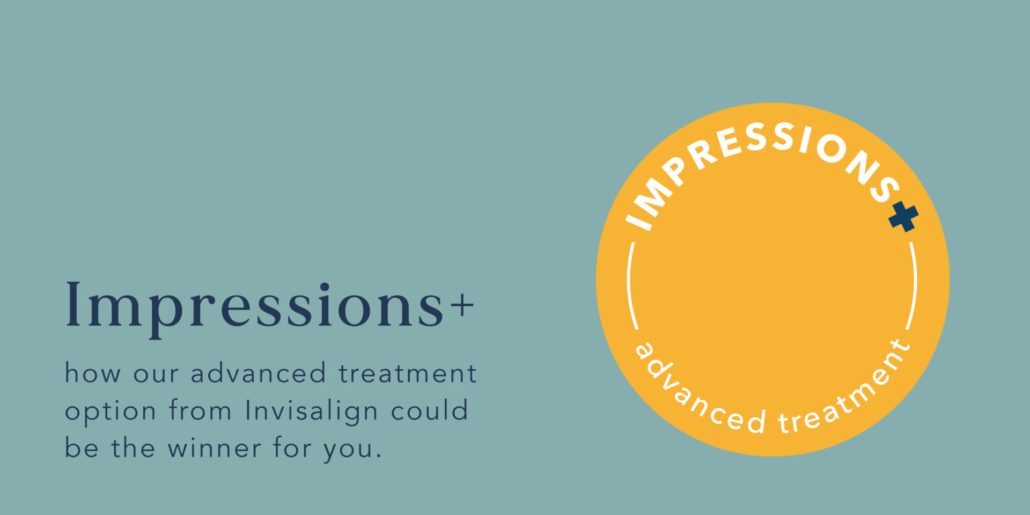 At this point, you've likely done some research and saw all of the options we offer for orthodontic treatment here at Blue Ridge Orthodontics. Does clear aligner treatment sound like the option for you? Clear aligners come with many benefits, such as the ability to eat what you want, keep your metal-free smile intact, and allow you to more easily maintain your oral hygiene while straightening your smile. However, traditional routes like Invisalign require many appointments and are a larger investment. This is where Impressions+ comes in – the new, more advanced version of our local, at-home clear aligner treatment, Impressions. 
Whether you're walking in with mild or moderate orthodontic concerns, Impressions+ may be the option for you! Impressions+ is a great middle-ground treatment option between Impressions and Invisalign. Impressions+ requires a smaller time commitment than Invisalign, is 25% lower cost, and it can still resolve most of the issues that Invisalign can tackle. 
Let's compare all of your options for clear aligner treatment from Blue Ridge Orthodontics:

Impressions+
Correct more smile issues, for less.
6 Office Visits
Impressions+ requires fewer trips to the office than Invisalign, but more than Impressions, meaning that your trusted orthodontists at Blue Ridge Orthodontics can keep a closer eye on your smile's progress and can answer any questions you have along the way. Some might say Impressions+ is a perfect balance! Lowering your trips to our office reduces your time and money invested.
Treats Mild to Moderate Issues
Before Impressions+, Impressions could only treat mild orthodontic concerns because aligners alone can only do so much to correct spacing, crowding, over and underbite issues. With the addition of attachments, like the ones that come with Invisalign, we're able to treat mild to severe orthodontic issues for less! Attachments are the little enamel-colored buttons, we adhere to your teeth that help shift and move teeth into alignment.
Could Impressions+ be for me?
Impressions+ is for the person that wants top-quality treatment but maybe doesn't want to pay full price for comprehensive treatment, or who doesn't have the time to come to our office every 6-8 weeks. Impressions+ provides the perfect balance of appointments with your doctor, for less. Find the perfect balance with Impressions+. Take the Impressions quiz to see if Impressions treatment could work for you.
Finding the right orthodontic treatment can be a difficult process, but with Blue Ridge Orthodontic's complimentary consults, we can match you with the best treatment for you in no time! Get your smile confidence back with top-quality care from the Invisalign experts at Blue Ridge Orthodontics, for 25% of the cost of comprehensive Invisalign. 
Visit the Impressions website or schedule your complimentary consultation with Blue Ridge Orthodontics by calling us at 828-585-6045 or fill out the form below. 
Your journey to your #ImpressionSmile starts when you open that box! Your life will never be the same – enjoy it! 
The Blue Ridge Orthodontics team
Impressions Consultation (1)
https://www.blueridgeorthodontics.com/wp-content/uploads/2021/09/BRO_09_Blog_IMPplus_FeatIMG.jpg
1920
1920
Audra
https://www.blueridgeorthodontics.com/wp-content/uploads/2021/10/Blue-Ridge-Orthodontics-Logo-Arden-Asheville-NCi.png
Audra
2021-09-14 12:38:43
2021-09-15 14:53:40
Impressions+ : How our advanced treatment option from Invisalign could be the winner for you