Questions About Orthodontics in Asheville? Check Out BRO's Infographic
Welcome to the new BRO!
Do you mean the new website or the new office?
Why both, of course!
Even though we've revamped our website and have moved to an incredible new office, we're proud to say the core values encompassed by Blue Ridge Orthodontics will always stay the same.
In our commitment to provide the best orthodontic treatment in Western North Carolina, we created this infographic that answers many of the most common questions that our patients in Asheville have.
If you love our infographic, please share it! (use the embed code below)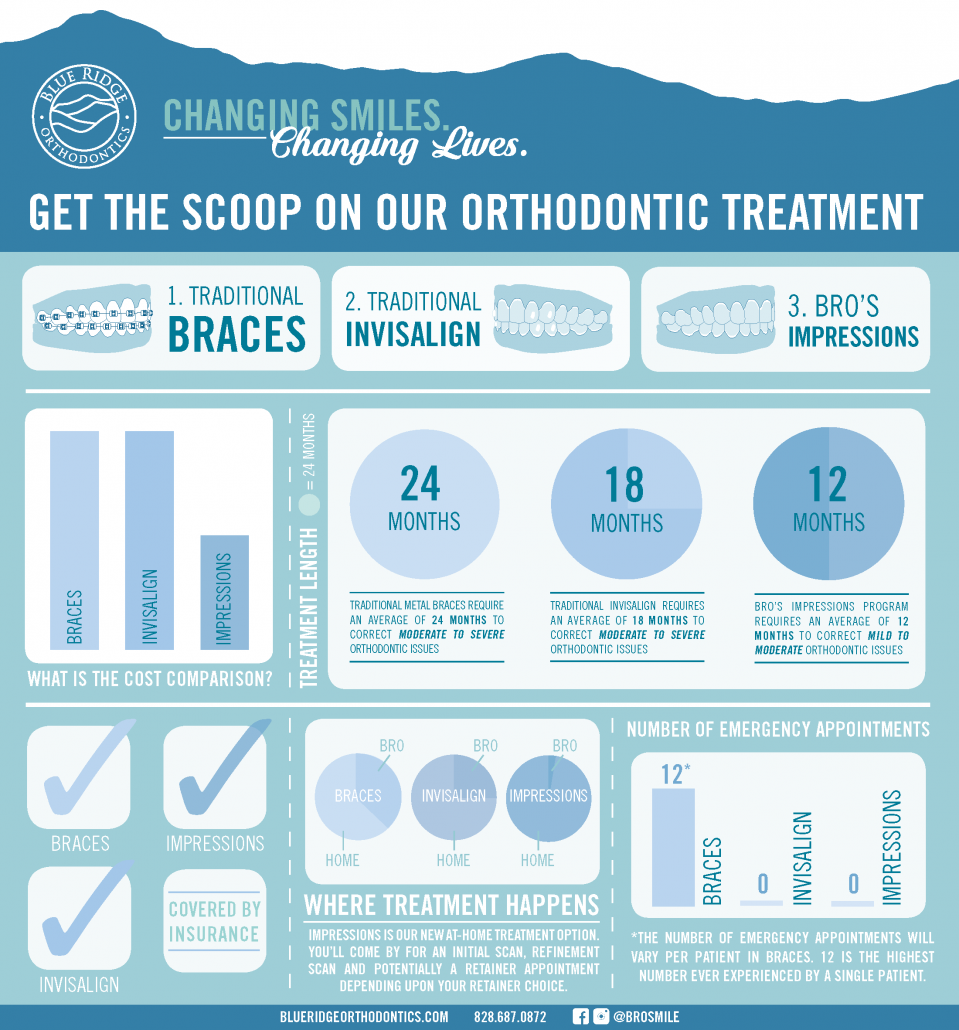 Share this Image On Your Site
Our orthodontic infographic compares braces, Invisalign, and BRO Impressions side-by-side. These are the three ways we straighten teeth and correct malocclusions, and we want to help you pick the one that's best for you.
What is the Cost?
Here at Blue Ridge Orthodontics, we pride ourselves on providing traditional Invisalign at the same price we charge for traditional braces. We want you to pick based on your comfort and preferences– not your wallet!
As you can see on our infographic, option 1 (Braces) and option 2 (Invisalign) have the same length blue bar, indicating their matching price points. This unique practice ensures that our valued patients can afford the subtlety of Invisalign if that is their preference.
Option 3 (BRO Impressions) is significantly less expensive than the other two.
How Long Does Orthodontic Treatment Take?
Another common question is, "How long will it take to straighten my smile?"
The amount of time you will spend in braces, Invisalign, or impressions varies from person to person. However, here is the general time frame breakdown:
Metal Braces – The average amount of time a person with moderate to severe orthodontic issues spends wearing metal braces is 24 months, or two years.
Invisalign – The average amount of time a person with moderate to severe orthodontic issues spends wearing Invisalign is 18 months, or a year and a half.
BRO Impressions – The average amount of time a person with mild to moderate orthodontic issues spends using/wearing BRO Impressions is 12 months, or a year.
Number of Emergency Appointments
"Oh no, I broke a bracket!"
Don't worry, these things happen from time to time. At Blue Ridge Orthodontics, we actually provide you with Dr. Roberts' cell phone number at the beginning of your treatment. If a bracket pops off, you're experiencing discomfort, or anything else requires our attention, you'll be able to reach out easily.
The highest amount of orthodontic emergencies we've ever had from one patient was five, and when you think of the fact that braces last for 2 years on average, that's not so bad.
That being said, the number of Invisalign and BRO Impressions emergencies is zero!
Does My Insurance Cover It?
Did you know that all three awesome methods of straightening teeth are covered by insurance?
Fixing crooked teeth or a malocclusion isn't just a cosmetic choice; it's an improvement to your oral health! That is why insurance covers braces, Invisalign, and Impressions.
If you have any questions about your specific dental insurance coverage, please give us a call at 828-585-6045.
How Many Orthodontic Visits Are Required?
Treatment is slightly different for each of the three orthodontic options. When it comes to braces, about one third of the treatment takes place here at BRO and two thirds at home. For Invisalign, about one fourth of the treatment takes place at our office and the other three fourths at home. Impressions are mostly done at home with only a small sliver of the "time pie" dedicated the BRO office.
Remember, BRO Impressions are for patients with mild to moderate orthodontic issues. This is why they require less office appointments, less total time, and less financial resources. Whether they're an option for you is something we can discuss during your free consultation!
Improving your dental health and achieving the confident smile of your dreams is exciting! We hope our Braces, Invisalign, and Impressions infographic helped inform you of your three main options. Any questions? Please don't hesitate to request more information!
https://www.blueridgeorthodontics.com/wp-content/uploads/2017/10/orthodontic_treatment_asheville_branded_infographic_pdf.png
476
656
Audra
https://www.blueridgeorthodontics.com/wp-content/uploads/2021/10/Blue-Ridge-Orthodontics-Logo-Arden-Asheville-NCi.png
Audra
2017-10-21 23:11:30
2018-01-04 16:42:41
Questions About Orthodontics in Asheville? Check Out BRO's Infographic