Invisalign®: Things You Should Know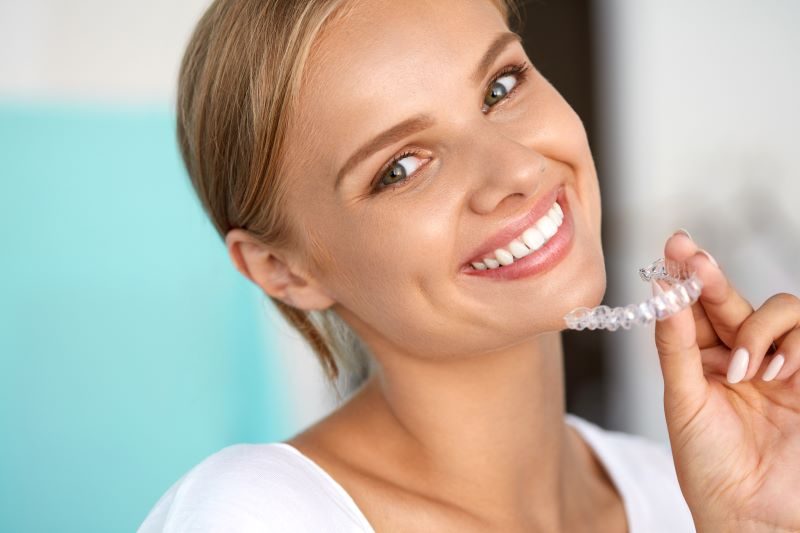 Nearly everyone has some orthodontic alignment issue. These issues can be the result of genetics or lifestyle. While most misalignments don't require correction, some do, such as crowding, impacted teeth, or other uncomfortable ailments.
Corrective Orthodontics
Wire braces were the most common form of teeth straightening until recent decades. Braces can work wonders, but in the early 90s, aligners were created to serve the same purpose. Some orthodontists will still recommend wire braces in specific scenarios, but overall, Invisalign aligners have become very popular. Not only are they virtually invisible, but they take less time to correct some orthodontic issues.
What are Aligners?
Aligners are a set of transparent, plastic orthodontic devices that are molded to fit over one's teeth and used to correct their alignment. The aligners progressively shift the teeth using gentle force. They are available for all ages. So let's look at what using aligners is like.
Wearing Aligners
To get the desired results, aligners must be worn for 22 hours daily. These convenient teeth-straightening tools are removable for eating, drinking, brushing your teeth, etc., but must be reinserted when done. The most prominent problem orthodontists encounter with aligners is self-discipline. Therefore, if you choose Invisalign, make sure you are prepared to wear your aligners for the suggested time.
Comfort
Aligners are shifting your teeth into a new place, so naturally, there will be pressure. After your initial set, you will be changing your aligner trays bi-weekly. Your teeth will become accustomed to the shifting, and you won't notice the pressure as much.
Oral Hygiene
Unlike traditional braces, aligners make it easy to keep up with oral hygiene and maintenance. You can still brush, floss, and whiten your teeth as usual.
As far as maintaining your aligners, it's simple. Brush them just as you do your teeth, at least once daily. Use non-abrasive cleaner or toothpaste; you could even purchase the brands explicitly made for aligners. Also, take into account the importance of your final retainer, which will keep your teeth in the desired position you worked so hard to achieve.
Treatment Time Frame
Also, as mentioned, there is a possibility that invisible aligners can reduce your treatment time. This may not be the case with more severe cases, but as far as simple straightening, you can see results fairly quickly and sometimes even wrap up your treatments within a year.
Blue Ridge Orthodontics
Are you concerned about your teeth alignment? Blue Ridge Orthodontics can help. We can evaluate your teeth, discuss your concerns, and then develop a treatment plan to make the corrections needed, including using Invisalign aligners. Contact our office at 828-537-5363 and schedule an appointment.

https://www.blueridgeorthodontics.com/wp-content/uploads/2023/07/Blue-Ridge-Orthodontics-invisalign-2.jpg
533
800
Ashley Spencer
https://www.blueridgeorthodontics.com/wp-content/uploads/2021/10/Blue-Ridge-Orthodontics-Logo-Arden-Asheville-NCi.png
Ashley Spencer
2023-07-10 09:48:36
2023-07-14 10:03:58
Invisalign®: Things You Should Know