Attention all brides & grooms (to-be): Blue Ridge Orthodontics will have an exhibit at the Veils and Tails Wedding Festival in Greenville, SC on Tuesday, June 12th, and we're not coming down empty-handed一there will be a doctor with us as well as our Impressions team and iTero scanner!
Wait, you mean your smile isn't the important item on your bride-to-be list? All jokes aside, if you are not 100% happy with your smile, then we would love to introduce you to our Impressions invisible aligners. You've heard about Invisalign (and Dr. Roberts is a diamond level provider), but Impressions is a special at-home orthodontic treatment that takes half the time and costs half as much!
To commemorate this special occasion, we are offering $100 off the total treatment cost for Impressions if you visit us at the Wedding Festival and getting started that day.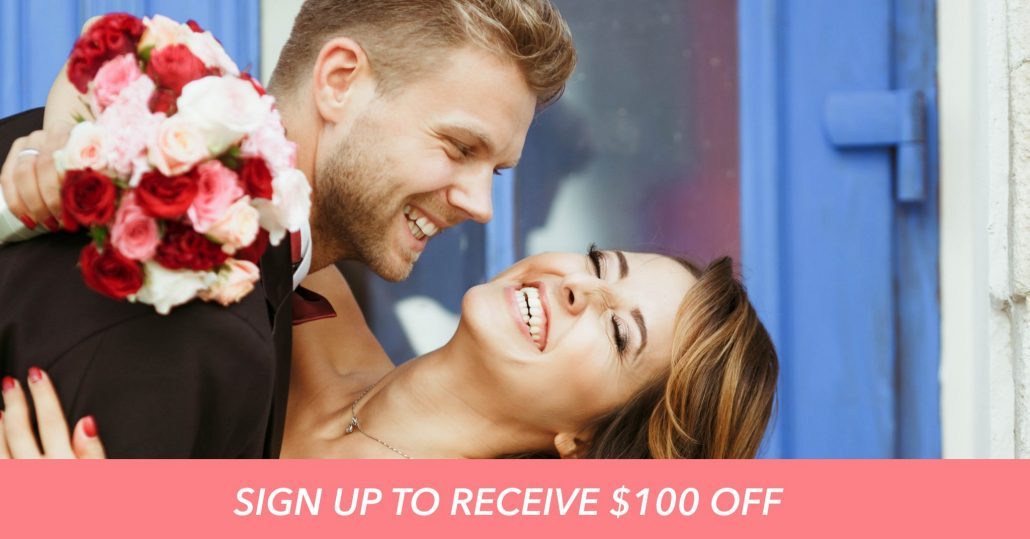 Teeth Whitening Before Your Wedding
You have options when it comes to the whitening of your teeth, but it's always a good move prior to nuptials, especially for the bride. You don't want your teeth to look lackluster next to the brilliant shade of cream or white that you've chosen for your gown.
Premium Teeth Whitening Treatment
The fastest and most effective way to whiten your teeth is a professional treatment. Come on in for a regular cleaning and premium whitening service, both of which are offered at BRO. We suggest stopping by a few days prior to the ceremony for maximum smile brightness!
DIY – At Home Whitening
Some fiance/es choose to use at-home whitening techniques to prepare for their big day. While they are effective, make sure that you begin treatment at least two weeks in advance to achieve the best results.
If you are a candidate for Impressions, than you have nothing to worry about. Why? Because each Impressions treatment comes with a premium teeth product right in the box. All you need to do is apply the special whitening gel to your tray before your go to sleep. Over the course of the night, this solution will do some serious work and will leave you with a truly radiant smile!
Whatever way you choose to whiten, remember that it's crucial not to eat or drink anything that could stain your teeth for at least two days before the wedding. Afraid you'll turn into a bridezilla without your morning boost? No worries, just use a straw.
Straight Smile Perfection
While a bright smile is good, one complete with beautiful, straight teeth is even better! That's why we're coming to the Veils and Tails Wedding Festival with our Impressions team and iTero scanner in tow.
If you aren't familiar with Impressions, it's a proprietary orthodontic service that straightens teeth through clear aligners in half the time and for half the cost as Invisalign. Though the Impressions trays are made from the same top-notch material, Dr. Luke Roberts has invented a method of production that cuts down on overhead costs and only requires two office visits. The rest of treatment is done from the comfort and convenience of your home. Come see us at our pop-up during Veils and Tails for more information and learn if Impressions is right for you. Your treatment could begin before you even leave the festival!
To make the deal even sweeter and reward those soon-to-be brides who have worked so hard, BRO will be offering $100 off total treatment and a complimentary premium teeth whitening kit that will come in the Impressions box for anyone who starts treatment that same day!
We cannot wait to meet the lovely brides and grooms in Greenville and help them achieve the smiles of their dreams. Veils and Tails will be held on Tuesday, June 12th and tickets are available online. You can find more information and purchase tickets at the Wedding Festivals website.
https://www.blueridgeorthodontics.com/wp-content/uploads/2018/06/impressions-pop-up-shop-wedding-festival.png
366
600
Stephen Trevathan
https://www.blueridgeorthodontics.com/wp-content/uploads/2017/06/BRO_Logo_Blue-300x300.png
Stephen Trevathan
2018-06-08 01:10:00
2018-06-08 01:30:39
BRO Will Be at the Veils & Tails Wedding Festival in Greenville