BRO Staff Spotlight Meet Jordan
Each week we will spotlight one of our talented team members here at Blue Ridge Orthodontics. This week's BRO spotlight focuses on our Financial Coordinator that you may find around our Asheville location!
Spoiler alert:
This team member enjoys training her sweet puppy when she is not at BRO, she has major dance moves, and she loves to wake surf on the lake! So, are you ready to check out what makes this team member so special?
Everyone, Meet Jordan!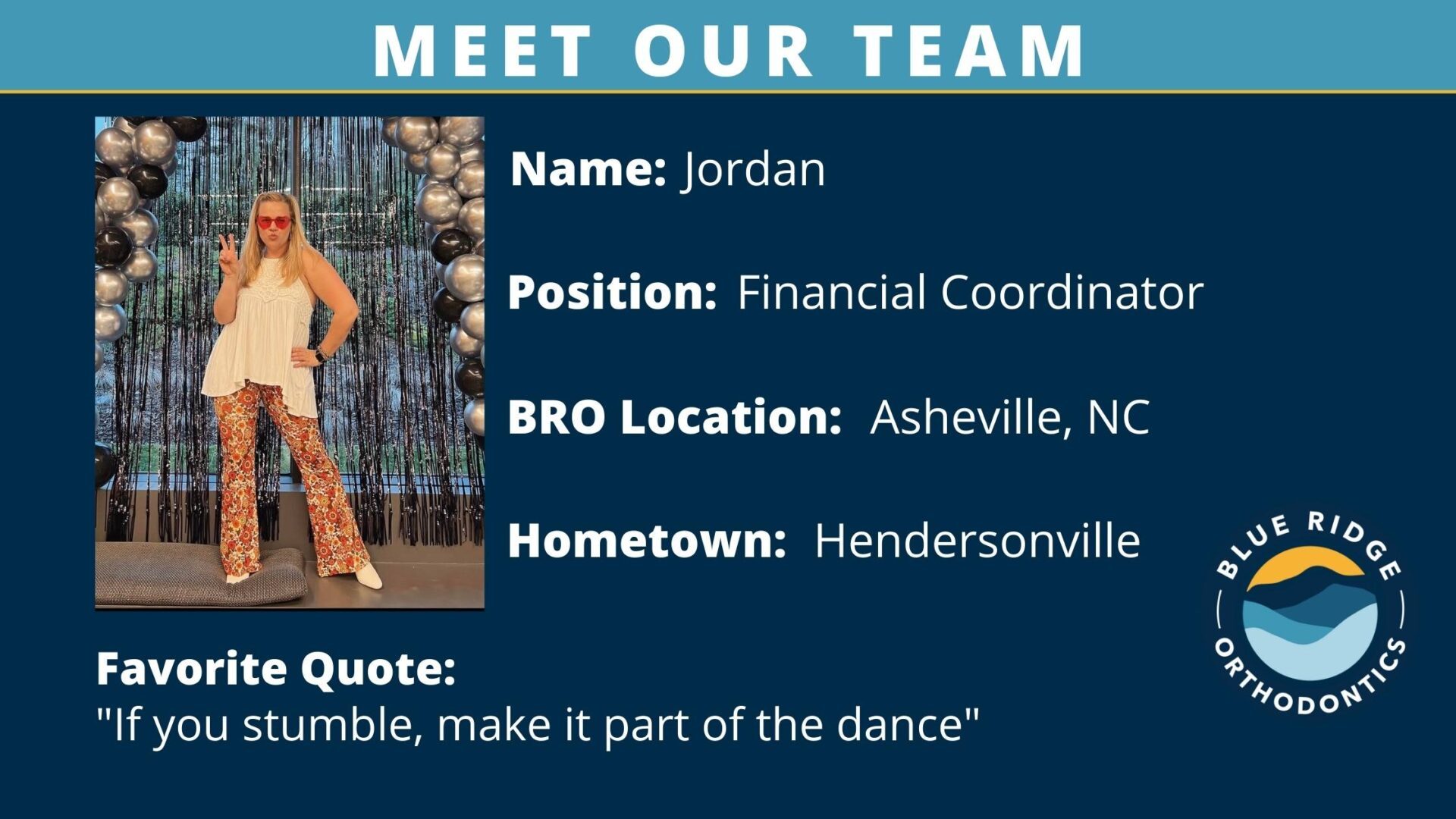 Fun Fact about you:
I have a 1 year old Australian Shepherd named Skie. I love to travel to all the warm places, including the Lake where my friends and I wake surf.
What is the most unusual or interesting thing you've ever done?
Something interesting that I have done is that while in College I was a part of the dance team there. Every year we would compete at the NDA Nationals in Daytona, and we were able to place in the TOP 3 in the nation for more than 2 years I was there!
Tell us about your role at BRO:
Here at BRO I work with families to find the best payment plan that works for them. I walk them through our financial options and go over their contracts. I also help with our oral surgery department with scheduling and discussing financials and insurance with our patients and going over surgery protocols.
What are 3 words you would use to describe BRO?
The three words I would use to describe BRO is Family Oriented, Charitable, and Fun. I enjoy volunteering twice a year to help with our Cleft Lip & Palate Event at BRO. We bring in multiple providers, and our CLP patients are able to meet with each one to discuss their treatment and plans around their surgeries. Here at BRO we enjoy getting to know our patients! I also love how much BRO gives back to the community and to our patients. We have fun giveaways that we do each quarter, and sponsor lots of sports teams in the community!
What is your favorite aspect about BRO?
With how much our team has fun with our patients! From deband days to patient of the month. We really do love all of our BRO families!
Where would we typically find you outside of BRO?
Outside of BRO, you would probably see me out and about trying all of the great food choices in our Area. Hendersonville and Asheville both have so many small businesses that my family and friends enjoy going to! We also live in Beer City, so my friends and I like to spend time exploring breweries in our area. While I love to eat, I also have joined our local Orange Theory right down the street and absolutely LOVE it!! Remember me mentioning my little pup, Skie? I started having trainings recently, so I have been really working with her! Any tips, please send my way!
In conclusion, we hope you loved learning more about Jordan as much as we did. Keep an eye out for her around our office, and be on the lookout for our next staff spotlight next week!
Do you have suggestions for who you want to hear more about?
Email [email protected]
Want to keep up with what's going on in our office?
https://www.blueridgeorthodontics.com/wp-content/uploads/2022/04/Meet-Jordan.jpg
788
940
Loren
https://www.blueridgeorthodontics.com/wp-content/uploads/2021/10/Blue-Ridge-Orthodontics-Logo-Arden-Asheville-NCi.png
Loren
2022-04-25 18:34:37
2022-04-25 18:35:32
BRO Staff Spotlight Meet Jordan