BRO Staff Spotlight Meet Mattea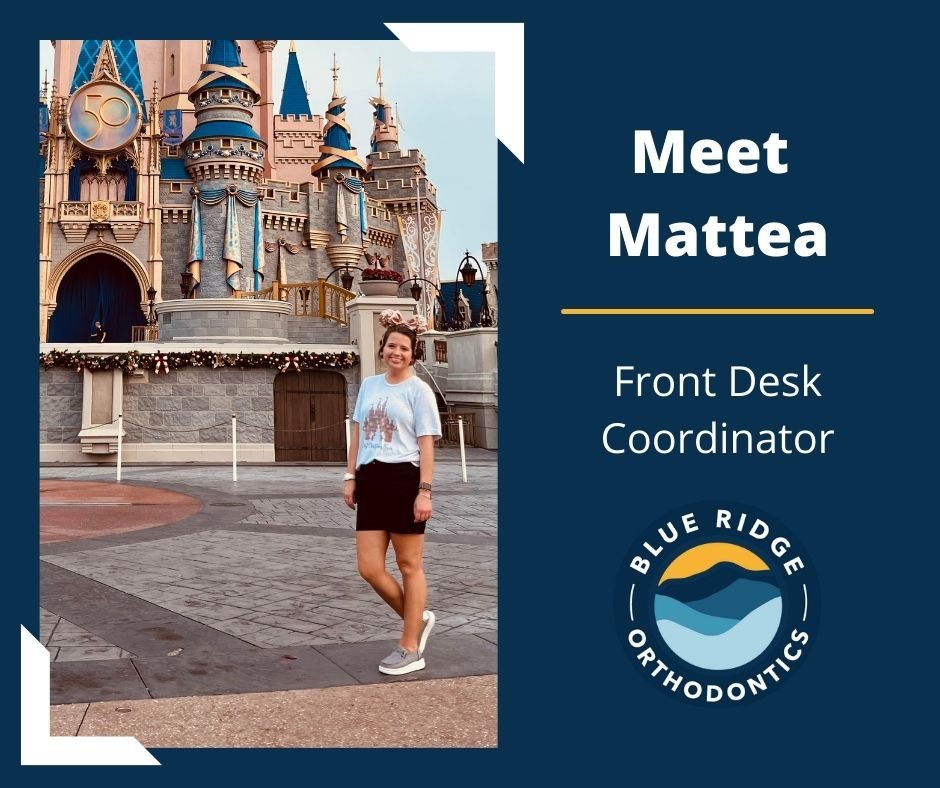 Each week we will spotlight one of our talented team members here at Blue Ridge Orthodontics. This week's BRO spotlight focuses on our Front Desk Coordinator that you may find around our Asheville location!
Spoiler alert:
This team member got to ride an interesting animal at the Knoxville Zoo, her favorite part about work is the time she gets to spend laughing with her coworkers, and she loves to visit local Western, NC spots! So, are you ready to check out what makes this team member so special?
Everyone, Meet Mattea!

What is the most unusual or interesting thing you've ever done?
When I went to the Knoxville Zoo, I got to ride a camel, the most interesting ride I've ever had!
Tell us about your role at BRO:
While working in the phones room I am scheduling new patients, rescheduling appointments, taking payments, calling & confirming Oral Surgery appointments, sending letters to DDS about mutual patients when they have either started or finished treatment. Working Check-In/Check-Out – greeting patients, making them feel welcome, checking them in, scheduling their next appointments, gathering any additional information before their appointment.
What are 3 words you would use to describe BRO?
Loyal – to patients & employees. Goal Oriented – once BRO sets a goal, nothing will stop them to make sure that goal is reached! Charitable – BRO has always loved giving back to the community who made BRO what it is today!
What is your favorite aspect about BRO?
My favorite aspect about BRO is when I come to work I know that I will have so much fun. I love all my coworkers because we are always trying to make each other laugh & make the most out of our day all while giving patients the best care!
Where would we typically find you outside of BRO?
You can find me hanging with my best friend & her adorable 10 month old son! Facetiming my 4 month old nephew! Walking around the Biltmore House grounds, I love seeing it every season! Me and my sisters love going to Dollywood, we try to go as much as we can to enjoy all the different events that they have going on, we are planning to go next weekend for the Flower & Food Festival! Or dreaming of my next trip to Disney, going to Disneyland the end of the month, it will be my first time to California & I cannot wait!!!
In conclusion, we hope you loved learning more about Mattea as much as we did. Keep an eye out for her around our office, and be on the lookout for our next staff spotlight next week!

Want to keep up with what's going on in our office?
https://www.blueridgeorthodontics.com/wp-content/uploads/2022/06/Meet-Jordan-1.jpg
788
940
Loren
https://www.blueridgeorthodontics.com/wp-content/uploads/2021/10/Blue-Ridge-Orthodontics-Logo-Arden-Asheville-NCi.png
Loren
2022-06-07 10:42:13
2022-06-07 10:42:13
BRO Staff Spotlight Meet Mattea