BRO Staff Spotlight Meet Victoria
Each week we will spotlight one of our talented team members here at Blue Ridge Orthodontics. This week's BRO spotlight focuses on our Front Desk Coordinator that you may find around our Asheville location!
Spoiler alert:
This team member loves to get crafty, she once won a HUGE prize, and she made a big impression with her costume at our 2022 Vision Summit! So, are you ready to check out what makes this team member so special?
Everyone, Meet Victoria!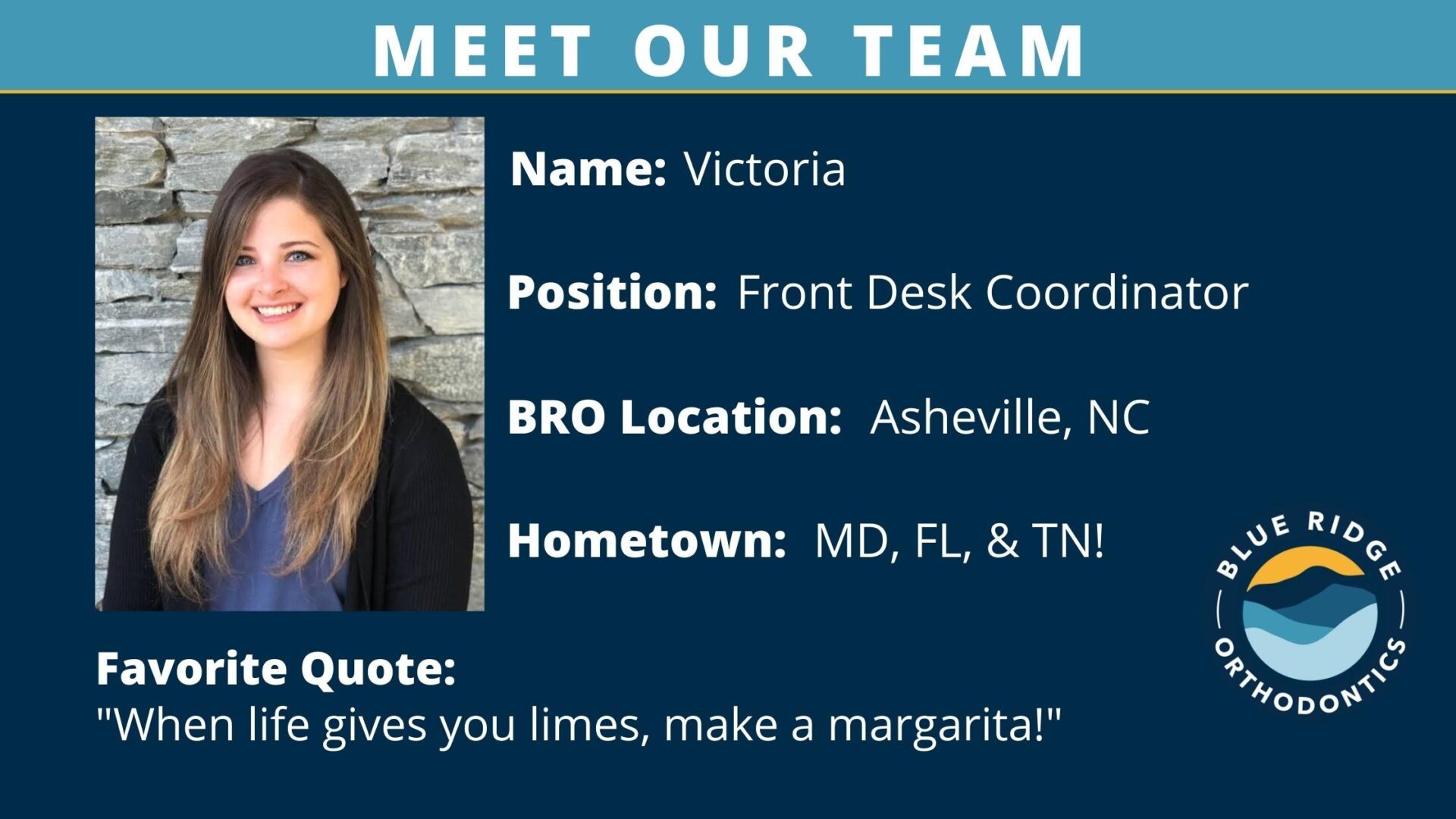 Fun Fact about you:
I love crafting! Right now my craft of choice is crochet, but I've tried literally every craft under the sun. I also made a lava lamp costume for our Vision Summit this year, complete with flashing lights and balloons.
What is the most unusual or interesting thing you've ever done?
My husband and I just went on a cruise early April and played with sloths and monkeys! Another fun fact, my husband won the Royal Caribbean cruise in a poker game (it was completely free!)
Tell us about your role at BRO:
Working as a front desk coordinator I help answer incoming calls, schedule future appointments and check in patients at the front. All front desk coordinators work in these positions, but you'll see me most often at the check in counter in Asheville.
What are 3 words you would use to describe BRO?
Family, Fun, Above-and-Beyond
What is your favorite aspect about BRO?
I can just come into work every day and know I'm going to smile, laugh and have a good time. I love everyone I work with and that comes through with patient care too! I'm so happy to be here and I make sure all of our patients share that feeling as well.
Where would we typically find you outside of BRO?
Probably just at my house! I am a homebody, I love spending time with my husband and two dogs. Plus my apartment has a pool so why would I ever leave?
In conclusion, we hope you loved learning more about Victoria as much as we did. Keep an eye out for her around our office, and be on the lookout for our next staff spotlight next week!
Do you have suggestions for who you want to hear more about?
Email [email protected]
Want to keep up with what's going on in our office?
https://www.blueridgeorthodontics.com/wp-content/uploads/2022/04/Meet-Victoria.jpg
788
940
Loren
https://www.blueridgeorthodontics.com/wp-content/uploads/2021/10/Blue-Ridge-Orthodontics-Logo-Arden-Asheville-NCi.png
Loren
2022-04-18 20:12:09
2022-04-18 20:22:56
BRO Staff Spotlight Meet Victoria