BRO Staff Spotlight Meet Victoria
Each week we will spotlight one of our talented team members here at Blue Ridge Orthodontics. This week's BRO spotlight focuses on one of our Orthodontic Assistants that you may find around our Hendersonville location!
Spoiler alert:
This team member is super adventurous and loves to try new things, she has two sweet fur babies, and she has been in 3 very different roles in her 5 years at BRO! We love this teammember's team-first attitude and her incredible work ethic. So, are you ready to check out what makes this team member so special?
Everyone, Meet Victoria!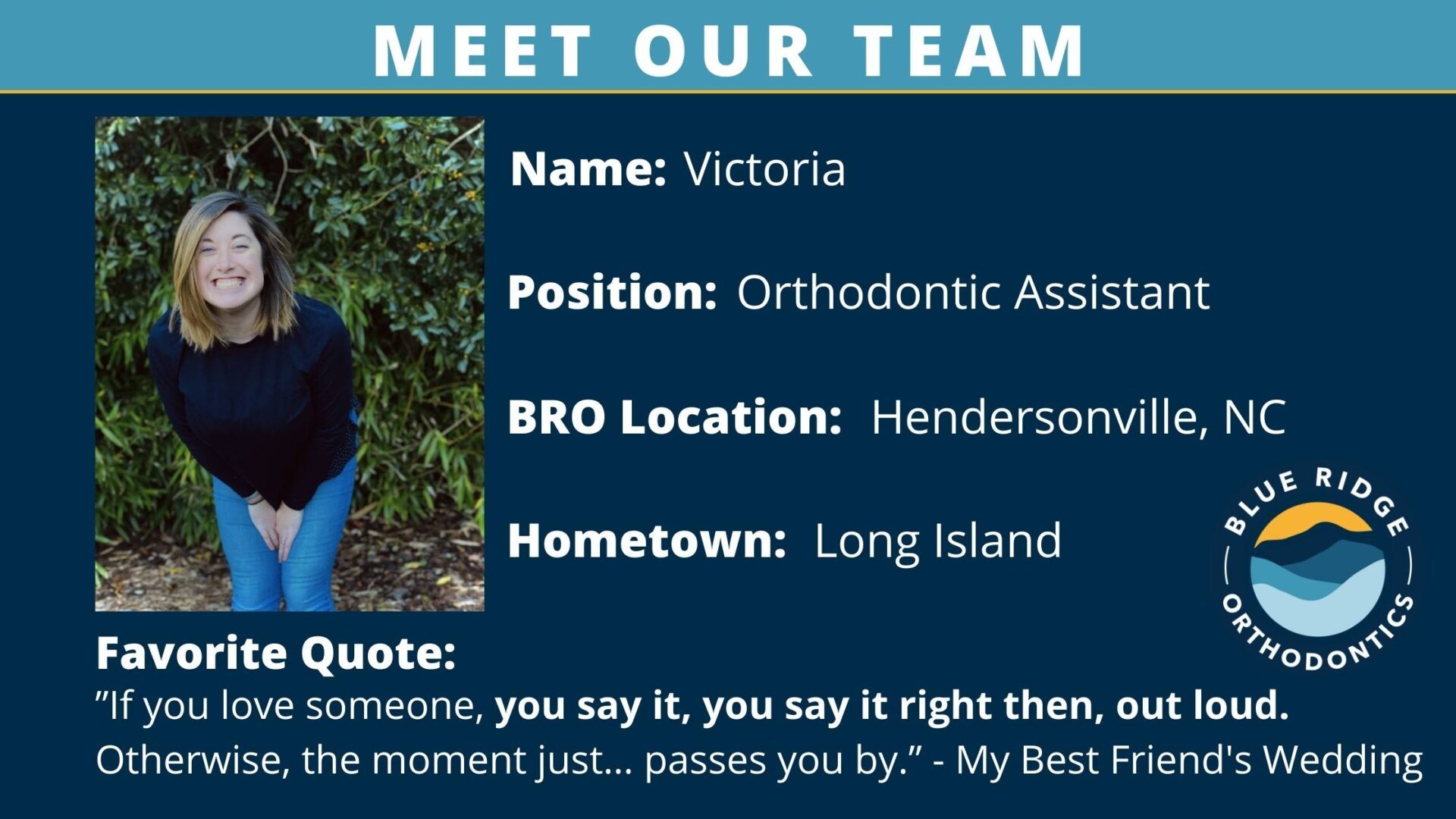 Fun Fact about you:
I'm constantly on a mission to try something new (except foods, I'm such a picky eater) Crafting is my absolute favorite, I've tried almost everything under the sun (knitting, crochet, painting watercolor, acrylic, oil, photography, embroidery, right now my main craft is Jewelry, specifically polymer clay jewelry.)
Tell us about your role at BRO:
I started with BRO on September 11th, 2017, the very first day in the new Asheville location! I started with BRO as a Front Desk Coordinator in Asheville, I then switched to Financial Coordinator, and finally made my way home to Orthodontic Assistant. Assisting is SO fun. I really enjoy working alongside our amazing Doctors to help achieve beautiful smiles for our patients. As for my daily duties, I grab patients throughout the day, make retainers, Order for clinics in our Hendersonville location, upload patient records, and I make the schedule for our Asheville Clinic girls. Working as an Assistant is constantly changing, adapting, and learning new techniques. I could not ask for a better Career.
What are 3 words you would use to describe BRO?
BRO is expanding, devoted, and flourishing. I've seen BRO go through several seasons of change, and the season we are in right now has been the best yet! I love seeing change for the better!
What is your favorite aspect about BRO?
I love that BRO has always watered my knowledge seed. I always want to be learning and growing for the better, and Dr. Roberts, Schuler, Griffeth, Giltner, Kenning, and Joe have all encouraged and continue to teach me anything and everything that they know.
Where would we typically find you outside of BRO?
When I'm not at work I'm most likely at home with my husband, Tyler. My Golden Retriever Bocephus, and my cat Tooty. Both Tyler and I love to play video games, so we wind down at night playing on our PCs next to each other. If we are not at our computers, we are most likely making art! If I'm not at home, just go to Target… I'm probably at Target…
In conclusion, we hope you loved learning more about Victoria as much as we did. Keep an eye out for her around our office, and be on the lookout for our next staff spotlight next week!
Want to keep up with what's going on in our office?
https://www.blueridgeorthodontics.com/wp-content/uploads/2022/08/Meet-Victoria.jpg
788
940
Loren
https://www.blueridgeorthodontics.com/wp-content/uploads/2021/10/Blue-Ridge-Orthodontics-Logo-Arden-Asheville-NCi.png
Loren
2022-08-03 09:17:33
2022-08-03 09:17:33
BRO Staff Spotlight Meet Victoria