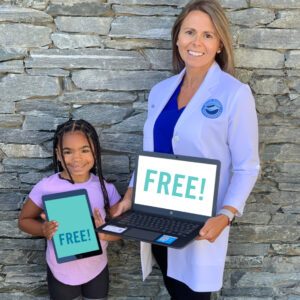 Smile Together during Braces and Invisalign Week with almost $500 off + FREE tech!
Aug 31st – Sept 4th
Maybe you've heard of our Braces & Invisalign nights. These events offer big discounts to patients seen at the event. This time we are offering these deals for an entire week PLUS, you get new free tech when you start treatment!
As we adjust to the new school year, we know you may need some new gadgets to help with schooling – whether that education is from home or in-person! Get $459 off comprehensive treatment, PLUS your choice of a free iPad or Chromebook when you start treatment.
How does it work? Just request an appointment using the webform below. Then, one of our scheduling team members will contact you to confirm. During Braces & Invisalign Week, just pop into our office for your scheduled complimentary consult. When you start treatment, save almost $500 and gain a new tech gadget!
This is our biggest giveaway of the YEAR on braces & Invisalign!! This offer won't happen again, so reserve your consultation today! Spots available are limited! Just fill out the form below, or give us a call at 828-687-0872 and reserve your savings and new smile!
Can't wait to see you.