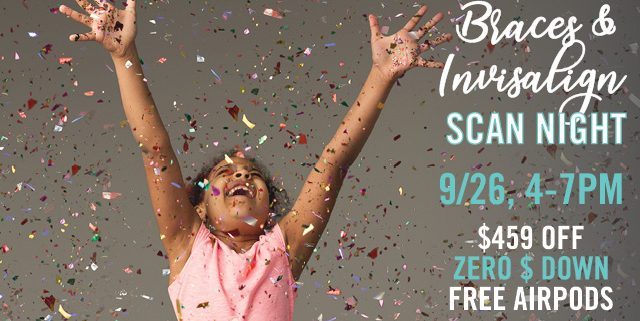 Blue Ridge Orthodontics & Impressions are hosting a free Braces and Invisalign Scan Night on Thursday, September 26th. If you've been thinking about straightening your smile but you're not sure what your options are, how much it will cost or how long it will take, you need to stop by! Our doctors will take a look at your smile and let you know your best option or options for treatment, how long treatment will take and what your exact price is.
So why should you attend? By attending our Braces & Invisalign Open House Night, you will receive:
A complimentary scan of your smile
Specific recommendations from a Diamond-level Invisalign provider
When you start treatment at our scan night, you'll put $0 down and get $459 off treatment with braces or Invisalign
Looking for a more affordable, at-home treatment option? Get started with Impressions at Scan Night and you'll get $259 off!
Plus, you'll get free Apple AirPods, if you start treatment with braces, Invisalign or Impressions that night!
You can walk in anytime between 4-7PM* without a prior reservation or appointment. If you want to make sure you don't have to wait, you can pick a time that works best for you and you'll get to cut the line when you arrive. You can make a reservation below or by phone to save your time – and reserve your AirPods!
*Due to high volume of interest in this event, we have opened up select time slots in the Asheville location on Friday and Monday.
Consultations and gifts are limited.