BRO Staff Spotlight: Meet Victoria
Each week, we like to shine a light on one of the amazingly talented folks that comprise our team here at BRO. Through these spotlight features, our goal is to familiarize our patients and the BRO community in general with the amazing people we are fortunate enough to call coworkers and friends.
This week, we are excited to introduce: Victoria!!
Meet Victoria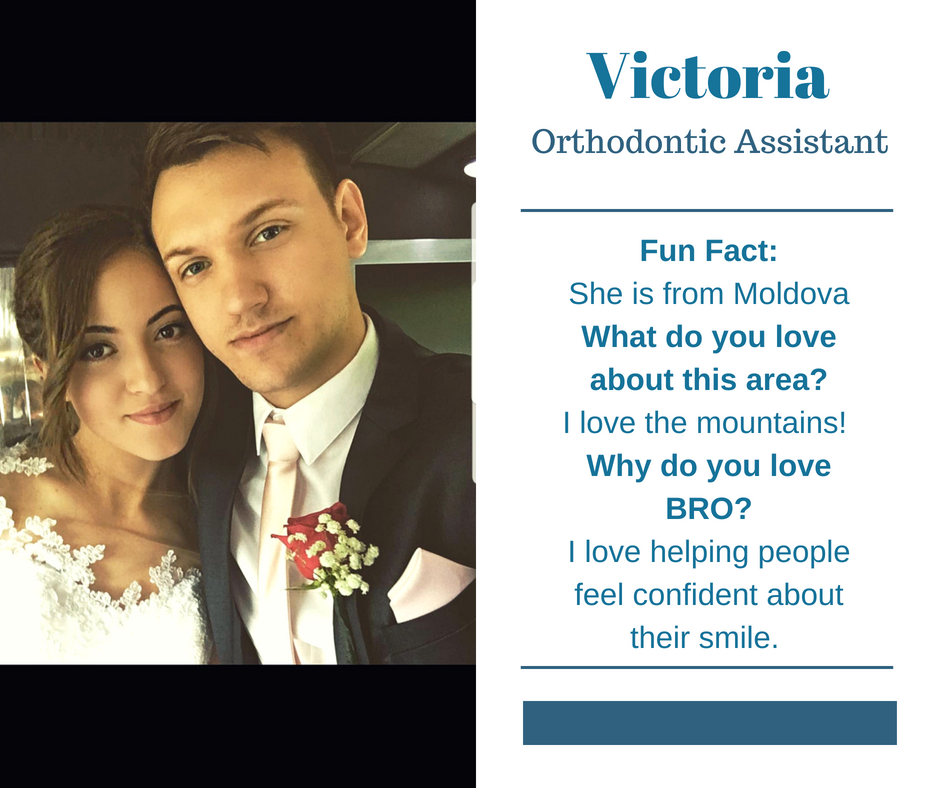 What is your role at Blue Ridge Orthodontics?
I work as an Orthodontic Assistant at our beautiful office in Asheville. Have you been there yet? It's awesome and you should really come visit us!
Why do you love BRO so much?
I really enjoy helping people and I'm fortunate enough to have a career that allows me to do just that here in Asheville. When a patient leaves our orthodontic office feeling super confident and happy about their new smile, that special feeling you get really means a lot to me.
What is your favorite thing about living in Asheville?
Well that's easy, I am head-over-heels in love with the mountains! The Blue Ridge Mountains are absolutely breathtaking and I love that they are pretty much in my backyard. Just saying this makes me want to go for a hike!
Is there anything that you would like our readers to know about yourself ?
Yes! I was born in Moldova. If you don't know where that is, it's a landlocked country in Eastern Europe. Sadly, Moldova is the least visit country in Europe, which is crazy when you consider that it is home to the Milestii Mici wine cellar— the largest in the world!
We just wanted to thank Victoria for sharing these answers with us and we hope you enjoyed this opportunity to get to know her a little better. She's an amazing member of the BRO family and she is looking forward to meeting you if you come visit us in Asheville. For our next staff spotlight, we're visiting with Jessica, one of our lead call center coordinators in Asheville. Stay tuned!
https://www.blueridgeorthodontics.com/wp-content/uploads/2018/07/Victoria-bro-orthodontic-assistant-asheville.png
788
940
Audra
https://www.blueridgeorthodontics.com/wp-content/uploads/2021/10/Blue-Ridge-Orthodontics-Logo-Arden-Asheville-NCi.png
Audra
2018-07-31 16:07:52
2018-12-31 19:13:21
BRO Staff Spotlight: Meet Victoria