BRO Staff Spotlight: Meet Cody
Each week, we like to shine a light on one of the amazingly talented folks that comprise our team here at BRO. Through these spotlight features, our goal is to familiarize our patients and the BRO community in general with the amazing people we are fortunate enough to call coworkers and friends.
This week, we are excited to introduce: Cody!!
Meet Cody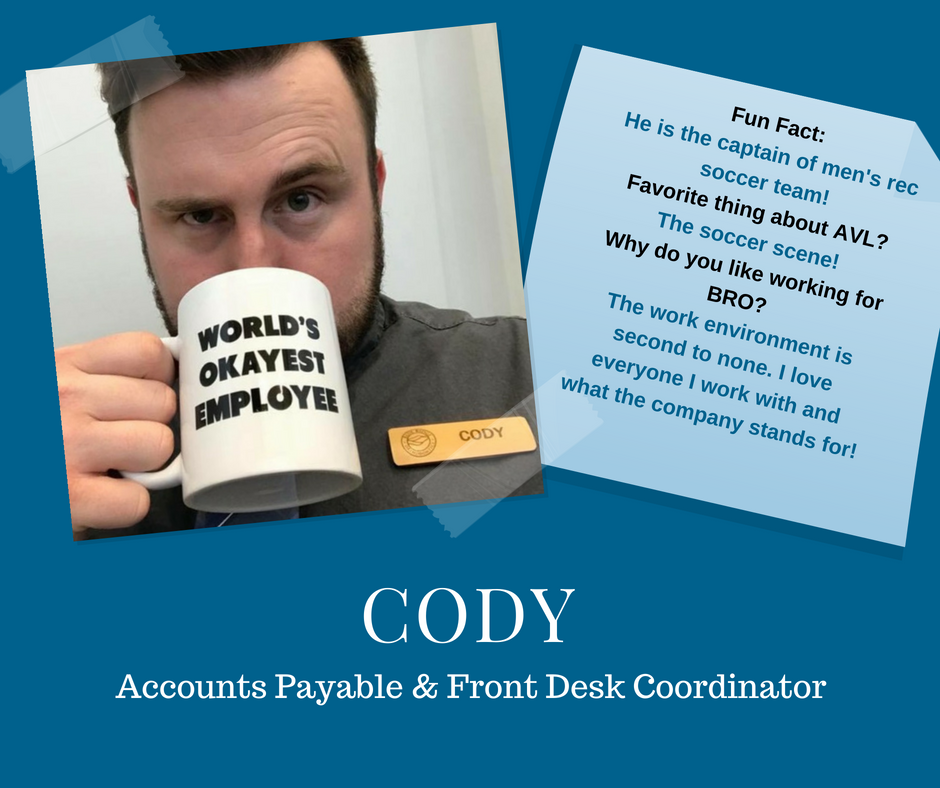 What is your role at Blue Ridge Orthodontics?
I work as the Front Desk Coordinator here at our main office in Asheville. I'm also responsible for our accounts payable.
Why do you love BRO so much?
My experience at Blue Ridge Orthodontics has truly been amazing! You could not ask for a better work environment. I love all of my coworkers and I'm very passionate about the core values that BRO stands for.
Can you tell us why you love living in Asheville so much?
You may not know this, but Asheville has a really amazing soccer scene! When most people think about Asheville, they're probably picturing some amazing food, incredible breweries and breathtaking landscapes. Me, I'm thinking about my next match on the pitch!
What's a fun fact about yourself Cody?
I'm the captain of the men's rec soccer team here in Asheville!  Soccer isn't just a pastime for me, it's a passion.
We just wanted to thank Cody for sharing these answers with us! He's great and he is looking forward to meeting you if you come visit us at BRO. For our next staff spotlight, we're chilling with Lori, our team leader in Hendersonville. Stay tuned!
https://www.blueridgeorthodontics.com/wp-content/uploads/2018/07/cody-bro-front-desk-coordinator-accounts-payable.png
788
940
Audra
https://www.blueridgeorthodontics.com/wp-content/uploads/2021/10/Blue-Ridge-Orthodontics-Logo-Arden-Asheville-NCi.png
Audra
2018-07-31 15:30:52
2018-12-31 19:05:25
BRO Staff Spotlight: Meet Cody